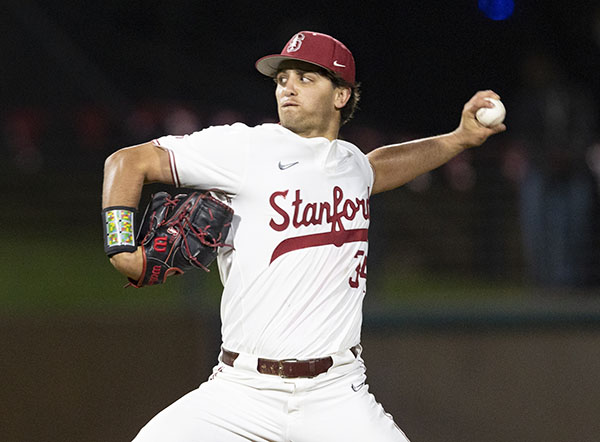 Wellington's Ryan Bruno earns a spot on the US National Team
Longtime Wellington resident and current Stanford University student-athlete, Ryan Bruno was awarded for an outstanding season with the Stanford baseball team.
Bruno – who just completed his sophomore season at Stanford and helped propel the team to a College World Series berth in Omaha, Nebraska – earned a spot on the 26-man collegiate U.S. national baseball team, after a five-game intrasquad series that served as a tryout during the national team's training camp in Cary, North Carolina.
The United States National Collegiate Baseball Team represented the United States at Honkbalweek Haarlem from July 8-15 at Pim Mulier Stadium in the Netherlands.
The U.S. national collegiate baseball team is led by University of Mississippi baseball head coach Mike Bianco, who capped off his 24th season by leading Ole Miss to his first-ever College World Series title in June. . Bianco is joined by Xan Barksdale, Drew Bianco (Louisiana State University), Scott Brown (Vanderbilt University), Cliff Godwin (East Carolina University) and Josh Holliday (Oklahoma State University).
"As I sat with the 51 players we invited to Cary, I told them what a huge honor it is because you are 51 of the best amateur baseball players in the United States of America," said White. "Cutting it by almost half is a daunting task. We've shared with all of them, as honestly and candidly as possible, that there are players coming home who will play in the major leagues and be All-Americans next year.
Fortunately, Bruno was one of the players selected for the team.
During national team camp, Bruno made two pitching appearances, where he struck out three and allowed just one hit and one walk in two innings of work.
At Stanford last season, Bruno – whose twin brother Jaden is also on the Stanford team – made a team-best 30 appearances for the Cardinal, compiling a 6-1 record with a 2 ERA, 72 in 39.67 innings. Bruno had one save and struck out 71 batters (16.11 strikeouts per nine innings) while limiting opponents to a .150 batting average.
Seventeen different colleges and universities are represented on the current 2022 U.S. National Collegiate Baseball Team roster, with Bruno being the only representative from the Pac-12 conference.
The USA team has participated in the Honkbalweek Haarlem five times since 2000. During this period, the USA has won four gold medals (2000, 2002, 2008 and 2014) and one bronze medal (2012).
The team traveled to the Netherlands on Wednesday July 6 in order to start playing on Saturday July 9. Team USA opened against Japan and followed with matches against Italy, Cuba, the Netherlands and Curacao to complete group play.
In its opener against Japan on July 9, Team USA lost 1-0 in extra innings in a pitcher-dominated game. Team USA bounced back with a win in their second game when they beat Italy 9-0 on Sunday July 10. Bruno played a key role in the game as he and three other teammates combined for a five-hit shutout against the Italians.
On Monday July 11, the United States posted an impressive 2-0 shutout victory over Cuba. American pitchers Tanner Hall and Teddy McGraw combined to limit the Cubans to just four hits in the American victory. On Tuesday July 12, the United States improved their record in the tournament to 3-1 with a convincing 10-0 win over the Netherlands.
For additional USA Baseball Collegiate National Team tournament results in this competition, visit www.usabaseball.com.