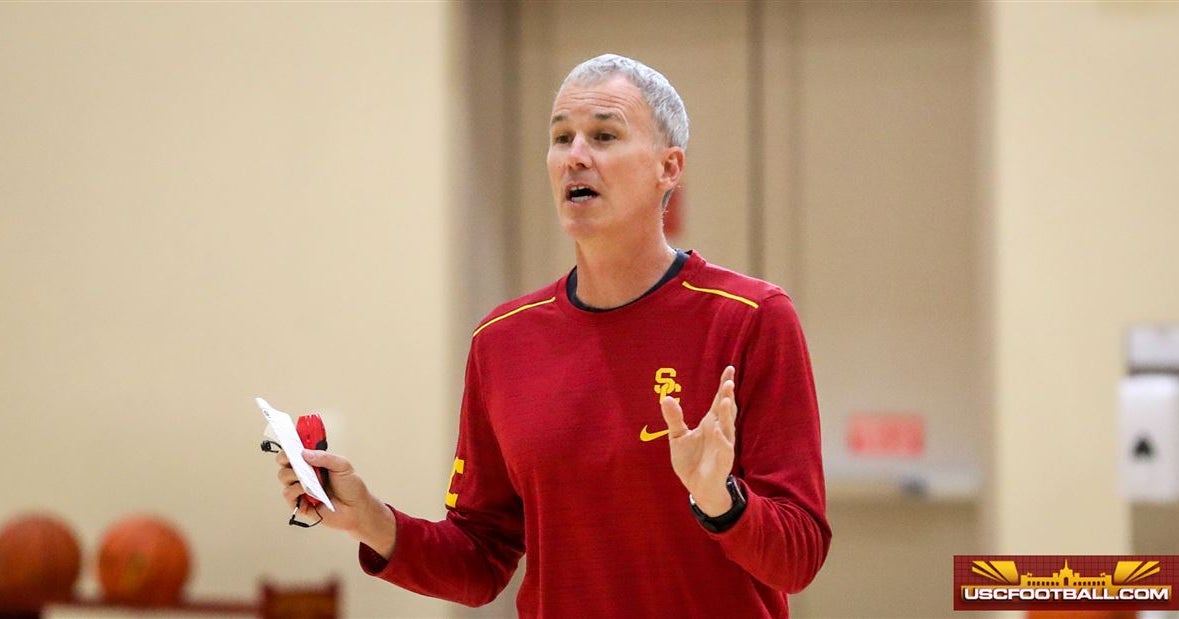 USC coach Andy Enfield provides team update ahead of season opener
Prior to his tenth season as USC head coach, Andy Enfield concluded the penultimate training session of the Trojans' pre-season with comments on the status of the team.
A roster full of new faces presents challenges for Enfield in integrating different styles of play and managing player roles.
"We just have to get some playing experience," Enfield said. "We have a new team. Some players have bigger roles this year than last year, the year before. It's an exciting time for all of them. So we just have to get some gaming experience and play together.
A first test for Trojans will be roster imbalances due to injuries. USC only has 10 scholarship players currently training with big men Vince Iwuchukwu and Yaroslav Nyagou both right now.
"We've got a lot of guards who are very good, and we've got some big guys who are out right now," Enfield said. "It will be different for the first game… We shortened training because you can't really spend an hour, 45 [minutes] with 10 guys.
Rising from the age of the Mobley brothers and other dominant USC forwards, Enfield sees this year's team led by guards, including preseason All-Pac-12 first-team selections boogie ellis and Drew Peterson.
"I think our guards will probably lead us this year," Enfield said. "It will be a little different. The four great players who played here are now playing in the NBA. It's quite exciting for the new band now to forge their own identity.
USC teams at Enfield are known for their stifling defense. Before the first game of the season, he emphasizes defending the three-point line. Opponents shot 33.1 percent from beyond the arc last season against the Trojans, ranking them 160th in the nation in three-point defense.
"The biggest concern [heading into the season opener] Florida Gulf Coast is a very good three-point shooting team," Enfield said. "They have a lot of guys in different positions, their big guys can shoot and their guards like to shoot a lot of threes. We have to keep the three-point line and make it a play on the rim.
Enfield has opted not to isolate players when discussing offseason improvements, instead focusing on progressions for the team as a whole.
"Our guards got better, our big guys got better," Enfield said. "They improved in the weight room. Some guys put on eight, 10, 15 pounds of muscle, and other players really worked on their skills. We are very satisfied with the development of the off-season.
The health of USC five-star freshman forward Vince Iwuchukwu is still in question after suffering cardiac arrest over the summer. Enfield remains optimistic about his status going forward.
"Vince is in good health. He looks great," Enfield said. "He rides his bike every day, he exercises. We just have to take it step by step with him and follow doctor's orders. His attitude has been great and we all have hope for him.
A younger Trojans team faces its first test on Monday with a game against Enfield's former team Florida Gulf Coast University.
"Everyone wants an opportunity," Enfield said. "Freshmen want to play right away. The sophomores said, "Hey, we didn't play as much last year as we [wanted], now we are.' And the upper classes must lead us. Everyone has an opportunity, so what are you going to do about it? »
USC will face the Eagles on Monday at 6:30 p.m. in a game that airs only on the Pac-12 network's Los Angeles regional channel.
This report provided by USCFootball.com Special Contributor Adam Jasper. USCfootball.com editor Shotgun Spratling contributed to this report.