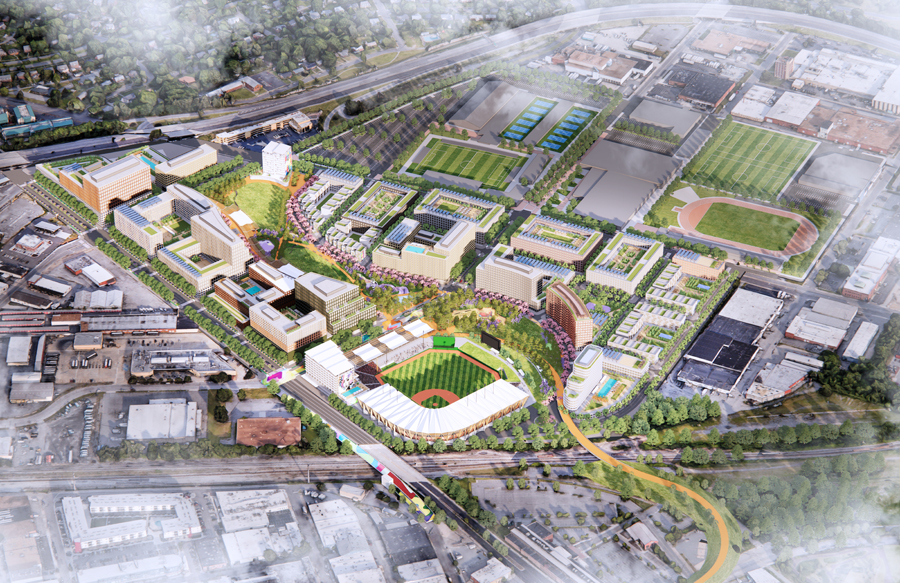 Training Grounds | Richmond Free Press
Along with a huge investment to transform the 67-acre Diamond District, the private development team that won the project is also proposing to invest in a construction training center and other projects that could benefit the black community. .
As part of its winning bid, RVA Diamond Partners (RVADP) put forward a plan to convert a vacant tobacco factory at 2325 Maury St. into a training facility.
Altria donated the 279,000 square foot building to Richmond Public Schools five years ago, but the school board's hope of creating a vocational and technical high school to serve 1,000 students has not progressed.
"This new proposal could break the deadlock," said 4th District School Board member Jonathan Young, an advocate for the new high school he plans to replace the aging North Side Tech Center.
RVADP proposes to lease the building for $1 a year and to invest a planned $52 million to renovate the building and add a parking deck, according to the plan obtained by the Free Press. RVADP plans to use state and federal tax credits and its own estimated $34 million investment to manage the work, the plan says.
The plan, which RVADP stresses is preliminary and subject to change following negotiations with RPS and the city, calls for reducing usable space in the building by nearly a third.
Of what remains, 175,000 square feet would go to the development of a full-service construction training site, with the remaining 25,000 square feet reserved for new offices for RPS staff now based at City Hall.
Under the proposal, RPS would pay a fixed $3.8 million per year in rent and operating costs, with the option to repay RVADP after 10 years at a pre-negotiated price and regain control. The projected cost does not include furniture, fixtures and equipment, RVADP noted.
RVADP would not operate the training center, according to the plan, but would let RPS and the city determine the best operating entity. RPS currently spends about $5 million a year to provide vocational education at the current technical center.
Michael A. "Mike" Hopkins, a Richmond developer and member of the RVADP team, said the plan "is a concept" and nothing is set in stone yet.
Mr Hopkins, whose companies would handle the renovations, said the project could be done in phases. He said there is room for the addition of traditional programs that have not yet been included, such as cosmetology and hairdressing, and for entirely new programs, such as advanced manufacturing training. , robotics and computer construction and repair.
He said RVADP wants the construction training portion to be ready by 2025 for RPS students and for adults who are now taking evening training classes at the Technical Center.
Demand for construction workers is already high, he added, with the planned development of the Diamond District only expected to increase the existing need for workers. With the training center, RVADP promises a solid plan of inclusion in all phases of the project.
The partnership's community benefits plan calls for 49% of all spending on construction and professional services to go to minority, small and women-owned businesses. This includes architecture, engineering, legal, accounting and banking, depending on the community benefit plan.
One of the groups RVADP is working with, Culture + Cuisine, would be tasked with creating a food hall and brewery that would be a minority business operation that would also include women-owned businesses.
RVADP also plans to work with the Virginia Union University School of Business to create a training institute to help entrepreneurs grow businesses and also provide $500,000 to start a revolving loan program to help these businesses open. operations in the district.
In addition, Capstone Development, another RVADP member, is to partner with Virginia Union University's business and hospitality programs and integrate VUU students into every stage of the development and operation of a planned 180-room hotel. , indicates the plane.
Paid internships as well as part-time and summer jobs for students enrolled in technical schools and two-year colleges in the Richmond area will also be offered, the promoter said.
Sir James Thornhill, a notable Black Richmond artist and mural designer, was also commissioned to oversee the creation of the artwork for the Diamond District.
The RVADP also plans to team up with the Metropolitan Junior Baseball League and the Richmond Flying Squirrels to offer a Diamond District baseball league for kids ages 5-8 to play T-ball and coach throwing games.