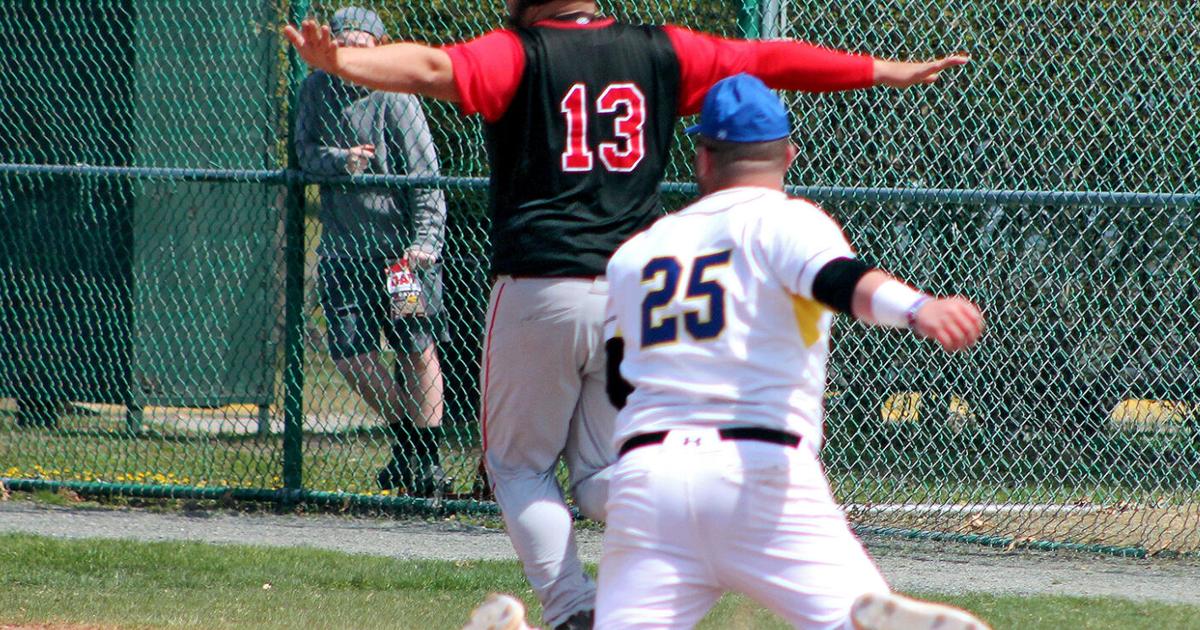 Tolman baseball team embraces D-II comebacks | Sports
PAWTUCKET – After spending last season in Division I and losing all 13 games, the Tolman High baseball team is back in D-II this spring, and with the Tigers off to a 2-4 start, it's obvious they are still learning the game.
The Tigers kicked off a three-game week last Wednesday on a high note by posting a 3-2 win over North Providence at Slater Park. But the following afternoon, Tolman suffered an 11-1 loss to the Cougars that was stopped late in the sixth inning by the leniency rule.
Less than 24 hours later, the Tigers returned to action, hitting the road to face Ponaganset, but the Chieftains came away with a 6-4 win. The two teams were scheduled to meet again on Tuesday afternoon at Slater Park.
Division II-North is full of parity this season, and after a month of action, it's clear that any team can win any day. Last Thursday, the wind was blowing and on the side of the Cougars, as NP homered in the first and fifth innings to take a 4-0 lead.
North Providence was also playing a "home" game at Slater Park, as the Cougars field is not yet playable. The Tigers had their chances, but in the end they were blocked by NP freshman pitcher Ronnie Paux, who went six full innings, allowing just four hits.
"We had opportunities early in the game," Tolman head coach Theo Murray said. "We had guys in scoring position, and sometimes I thought we were hitting the ball hard. But that was just bad luck; we were hitting balls at guys, and North Providence made a few more-type defensive plays.
"When we played them (last Wednesday) we scored three points in the first and that was able to carry us," Murray continued. "Today it looked like we couldn't start (a rally). The pitcher of (NP) did a good job of keeping us off balance, so you have to give him a lot of credit.
Last Wednesday's win saw sophomore pitcher Aidan Cherniawski pick up his first college win by throwing a four-hitter that included seven strikeouts. He allowed two unearned runs in the top of the sixth, and at one point in the contest he had 10 consecutive batters. Freshman Ethan Torres highlighted the Tigers' first-inning rally with a two-out, two-run bloop single that landed near the right field line.
As for the offensive side of things, the Tigers have senior Corey Pereira in the lead, who Murray says is on base, and the meat of their order includes junior receiver Jaymond Labossiere and senior third baseman Aaron Carrion. Murray also pointed to Cherniawski, who also swung the bat well.
Cherniawski and Torres are two of the youngest players on the roster, and even though the Tigers "have a lot of seniors and a lot of upper class men, we just don't have the experience," Murray added. , who also has two senior starting pitchers. Andrew Massey and southpaw Easty Gousie.
"Last year, with what we went through, we finished (the season) with just 11 guys," Murray added. "Some of these guys played last year, and I have new guys in there, but it's just inexperience. There's a lot to learn. I'm throwing a lot at these kids – I'll be the first to admit it – but we're still learning and trying to connect.
As the Tigers continue to learn the game and regroup, they're doing it against a different kind of competition, not the best programs in the state. Back in D-II, Murray is happy his side's games have been competitive for the most part.
"It's good to be able to participate in matches where we are in competition," he added. "(In the season opener) against Mount Pleasant we lost 6-1, but we were in the game. Last year, I think we only played three seven-inning games. We were outscored by 10 points in 10 of the games and were outscored 165-8. But this year, it's good to know that we have a chance.
The Tigers also suffered a 9-3 loss to Mount Saint Charles in their second game of the season, but two afternoons later, on April 14, Tolman came back to post an 8-7 win over the Mounties at Slater Park. Tolman, who had a season-high 15 hits, held a 6-0 lead after three innings but had to win the game in extra innings and come away with the victory in the bottom of the ninth.
The Tigers will play three games in as many days this week at Slater Park, starting with Thursday's 4:15 p.m. non-league game against Crosstown rival Shea. Friday at 4 p.m. they will host Scituate in a D-II contest, and Saturday at 10 a.m. they will face neighboring DI team Lincoln in another non-league.
"I think we have the elements to be competitive and be one of those seven out of 10 teams looking to make the playoffs," Murray said. "We should definitely be in that range. We just have to keep fighting and see what happens.