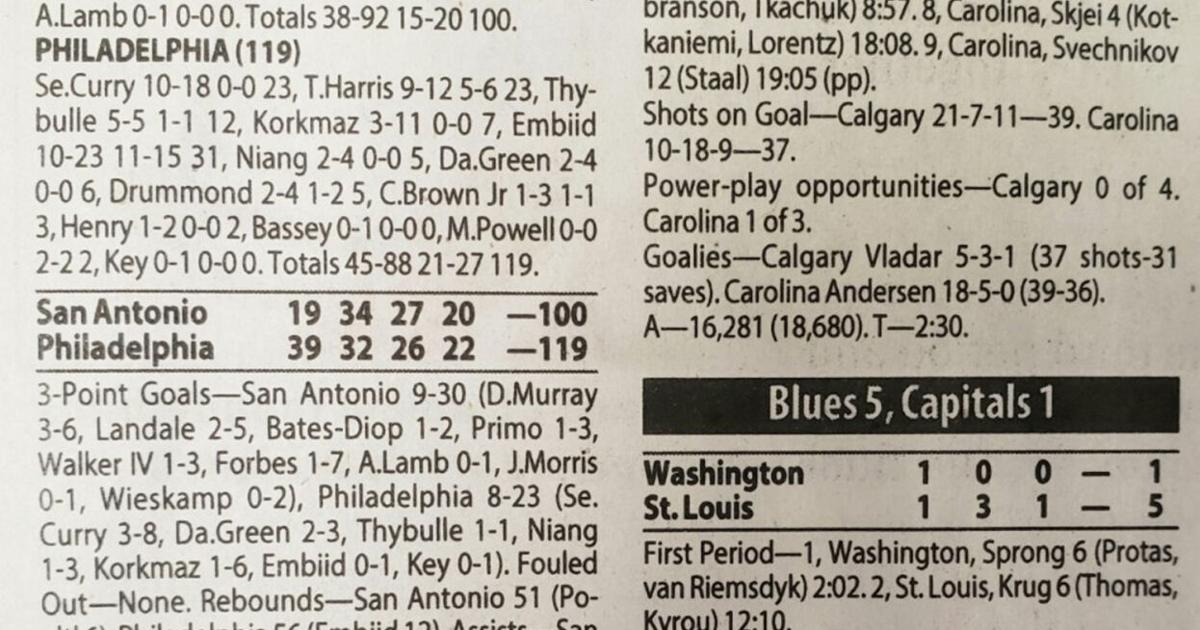 Times Leaves Era of Dashboard Pages to Provide More Local Stories | Columns
Like many fans my age, the results and stats found in the sports section of the newspapers as a youngster shaped my appreciation and developed my knowledge of the various professional teams and leagues.
I memorized the shortcut for each box, confident that I had deciphered the codes necessary for the fandom. "FG" signified the field goal, "EN" signified an empty net. "4-14-2-46" meant four completed passes in 14 attempts with two interceptions for 46 passing yards … and a certain quarterback didn't have a very good day.
But baseball was allowed into the club: "AB" was at bat, "RBI" at bat, "HR" home run, "LOB" left on base, "SO" at bat, and, welcome, here is your membership card, you can read the scoreboard page of any sports section in the country.
The scorecard page has been a key feature of sports sections of newspapers like the Watertown Daily Times for decades, keeping pace with each sporting season across the calendar.
For years, I have answered phone calls and emails from readers and sports fans wondering why a certain boxscore didn't make the newspaper. Fantasy League enthusiasts would regularly make contact if an NFL boxscore was incomplete. An elderly woman called almost every time the Yankees were on the West Coast to get a report on her Bronx bombers.
I no longer receive any of those phone calls. Neither email. I haven't done this in years.
In addition, I rarely consult the boxscores of the newspaper myself. Almost the only time I look at them is when I am correcting the page at the end of a shift. As a loyal reader of the Dashboard page for over 40 years, this is a difficult achievement. But that's why we at the newspaper made a decision.
As of Wednesday, national boxscores will no longer appear in the Watertown Daily Times, Malone Telegram, and other Johnson Newspaper affiliated publications. Newspapers will still publish national rankings and timetables. It will still run the TV peek every day. It will show local north scores and sports highlights, basically anything that appeared on the second page of the sports section except the national agate of each game.
This is not a decision taken lightly. This was done because the publication of national boxscores requires a person to work eight hours dedicated to a single page of the sports section each day that the newspaper publishes. With the reduction of newspaper staff across the country, this is no longer feasible.
Devoting one person to working eight hours on the national agate each day is two to three lost local game stories, one to two unwritten local features, per week.
Our primary responsibility within the Sports Department of the Watertown Daily Times and other newspapers is to provide local coverage, reporting on activities within the Frontier League, Northern Athletic Conference, local colleges and various others. sporting events in Jefferson, Lewis, St. Lawrence, Franklin and Oswego counties, as well as football and basketball at Syracuse University.
National coverage comes second. National and world sports can be found in a host of other media on the Internet and in traditional publications. It is obvious – due to the lack of contact through calls and emails – that people who have already found their information in boxscore newspapers have gone elsewhere for these facts and figures. Any fan can choose from an overwhelming number of sites and get last-minute updates right to their phone, no matter which pro game they choose.
A newspaper can't do that. So many newspapers across the country have scrapped national boxes, and many did 10 or 20 years ago.
In order for us to maintain our ability to offer the most comprehensive sports coverage in the north of the country, we need to shift our focus from national to local, a commitment that we have made for years, but something that we need to renew as we go. that the sports media continue to evolve. .
As a result of this metric, you'll see more local game stories and features in the newspaper in the weeks and months to come.
Gregory Gay is the sports editor of the Watertown Daily Times