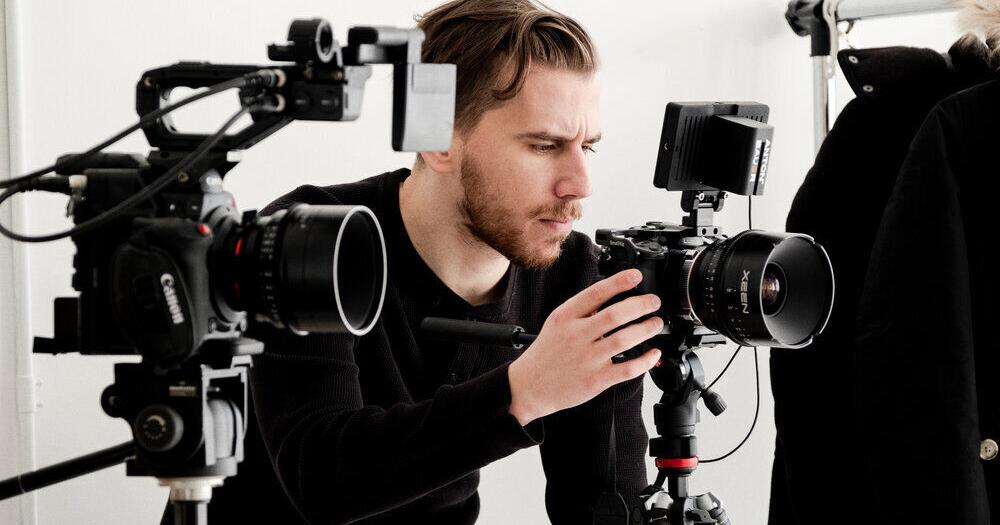 THS grad is part of the team that produced award-winning documentary film | News
A graduate of Tehachapi high school succeeds in the documentary world.
Daniel A. Nelson, THS class of 2006, is co-director, producer and cinematographer for the award-winning documentary film "And So I Stayed".
The film is about survivors of domestic violence who have spent years behind bars. It has screened nationwide and recently won the Audience Award at the St. Louis International Film Festival. It also won two awards at the Brooklyn Film Festival in June.
Nelson and other members of the film crew were featured on an ABC News show in October as part of their coverage of Domestic Violence Awareness Month.
In a recent interview, Nelson said he spent about six years working on the film, which was based on a master's thesis by Natalie Pattillo, another Columbia Journalism School student. Pattillo, now a New York-based multimedia journalist, is the film's co-director, producer and screenwriter.
Filming wrapped up just before the nationwide COVID-19 shutdown in early 2020, and post-production work was handled by working remotely with members of the film's crew, using Zoom and calls. telephone.
The project was a labor of love for Nelson, who said he used his credit cards no more than twice to keep the film going for the first two or three years of production, covering travel and d 'equipment.
"It's not something I would advise anyone to do," he said, noting that his passion for the film sustained him until funding for the project was finally secured.
Now his effort is to help the film – and the criminalization of victims of abuse – gain exposure and hopefully be sold to a distributor like Netflix or HBO.
Working on the film opened his eyes to gender-based violence, he said.
"I have seen with my own eyes how the misogyny and racism, which are so prevalent in our society, seep into courtrooms and distort the truth," Nelson wrote in a comment included on the movie.
"When a male judge can look a victim of domestic violence in the face and tell her she's 'reluctantly' at the horrific abuse she has been subjected to, despite the evidence to the contrary, or that a white male prosecutor can call a mother and survivor, who is Black a 'neighborhood diva', he tells you everything you need to know about the amount of work to be done, "he noted.
Nelson graduated from Columbia Journalism School with an MA in Documentary Film Making in 2016. His thesis at Columbia was a short documentary titled "Posture" on the controversial world of competitive yoga. It premiered at the Long Island International Film Expo 2017 and was posted online at yogajournal.com.
He also worked as cinematographer and researcher on Oscar nominated director David France's feature documentary "The Death and Life of Marsha P. Johnson," which celebrates the enduring political legacy of trans icon Marsha P Johnson. The film premiered at the 2017 Tribeca Film Festival and can be viewed on Netflix.
Tehachapi roots
Nelson moved to Tehachapi from Southern California when he was in eighth grade, attending Jacobsen Junior High School and later THS. After high school, he moved to Santa Barbara and spent about five years at the city's college before moving to the Bay Area where he earned a bachelor's degree in journalism in the state of San Francisco.
He began working for the Santa Barbara student newspaper, possibly influenced by his journalist parents, former Tehachapi residents John Nelson and Jill Barnes Nelson.
"I wanted to be a sports journalist during my studies, which my parents did for a very long time," he said. "I joined the school newspaper, started sports writing in Santa Barbara and San Francisco, and became editor-in-chief for the SF Bay newspaper, covering the 2014 San Francisco Giants season for this publication. "
Although he loves baseball, the experience almost ruined him because it became a job, he said. Today, he calls himself a "recovering sports writer".
During his final semester at San Francisco State, he moved into what was then the emerging field of multimedia journalism.
"I just fell in love with it," he said. "I enjoyed working with video… the medium has an incredible impact on storytelling, but it was my last semester and I felt like I just didn't have enough. "
Wanting to gain more experience, he thought about graduate school and found that Columbia – one of the most revered institutions for journalism studies – had a documentary trail. He was thrilled to be accepted in the fall of 2015, joining what was only the eighth class to complete the documentary program.
He still lives in New York and teaches at Columbia while working as a freelance videographer while continuing to promote "And So I Stayed".
Nelson's parents moved from New Jersey to Southern California when he was young and eventually to Tehachapi where they raised horses at their Bar Double J Ranch in Sand Canyon.
His father, John Nelson, spent 27 years with the Associated Press in New York, covering sports around the world, and was the AP's national baseball writer for 10 years. His mother, Jill Barnes Nelson, also had a distinguished career as a journalist. After writing for the Mojave Desert News for several years, they both joined the Tehachapi News team in 2015 and continued with the newspaper until their retirement and relocation to a small town in New York State. in 2017.
Claudia Elliott is a freelance journalist and former editor-in-chief of Tehachapi News. She lives in Tehachapi and can be contacted by email: claudia@claudiaelliott.net.