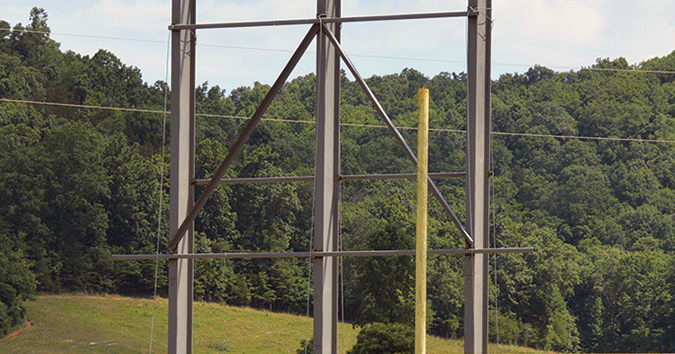 The scoreboard arrives for the LA football stadium | New
By Dewain E. Peek,
OCN Editor
Chairman Mike Hayes provided an update on the Livingston Academy football stadium during an Overton County School Board business meeting held on Tuesday, June 21.
"Everything is going according to plan right now," President Hayes said. "Mid-State Construction has until July 31 to install the lighting, scoreboard and bleachers so we can play our first home game there."
He said the dashboard frame was installed.
"It's huge," President Hayes said, "much bigger than I thought it would be, but it looks really nice, it's just the frame. The dash is spot on.
The lighting was to be delivered later in the week.
"The bleachers are kind of putting us on the edge," President Hayes said. "They are going to be delivered on July 25."
He said the availability of steel could cause a problem with the bleachers.
The first football game will be away, but if the stands are not ready, the second game, which is scheduled at home, may have to be played away.
"Mid-State Construction, as far as they are concerned, they are on track to complete this phase," Chairman Hayes said.
The first phase is the lighting, the dashboard, the bleachers, according to President Hayes. Phase two has the concession stand and associated facilities.
"This building won't be finished on time," President Hayes said, "and we knew that before. But, I think everything is going according to plan, so far.
President Hayes also discussed core drilling on land to be purchased from Dr. Larry Mason, depending on the results of the core drilling.
"Based on everything they saw during the coring, they don't see anything unusual in this area," President Hayes said.
Core drilling showed some sinkholes, but not in the construction area of ​​a proposed future stadium.
Also related to sports, Curtis Hayes, as a former student-athlete, presented the possibility of naming the Livingston Academy baseball field in honor of Pat Swallows.
When Pat Swallows started teaching at Livingston Academy in 1969-70, LA didn't have a baseball program. The school board allowed him to start the baseball program that year and he coached for 35 years, winning 9 district championships, 2 area championships, 2 substate appearances. More than 10 of his players went on to play college baseball, and one player was drafted by Major League Baseball.
He helped build the field from the start, and in the 1980s the facility had the first indoor batting cages in Upper Cumberland.
The land was later renovated with brick dugouts and a press box/concession stand at a total cost of $100,000 paid for with contributions from the community, the school board, and Swallows and his wife, Louise, have made monthly payments until the debt was fully paid in 2016.
He founded the Baseball Coaches Association in 1992, where he served as executive director for more than 30 years, and was inducted into the Tennessee Baseball Coaches Association Hall of Fame in 2006. He served as assistant athletic director for Tennessee Athletic Coaches Association for the past 10 years. years.
A committee was appointed to gather 3-5 names for review as required by Policy 3.210 – Naming of Buildings and Ancillary Facilities. School board member Mitchell Stonecipher will serve as committee chair, and Mayor Hayes has agreed to serve on the committee.
The committee will meet at the central education office at 5 p.m. on Thursday, July 7.