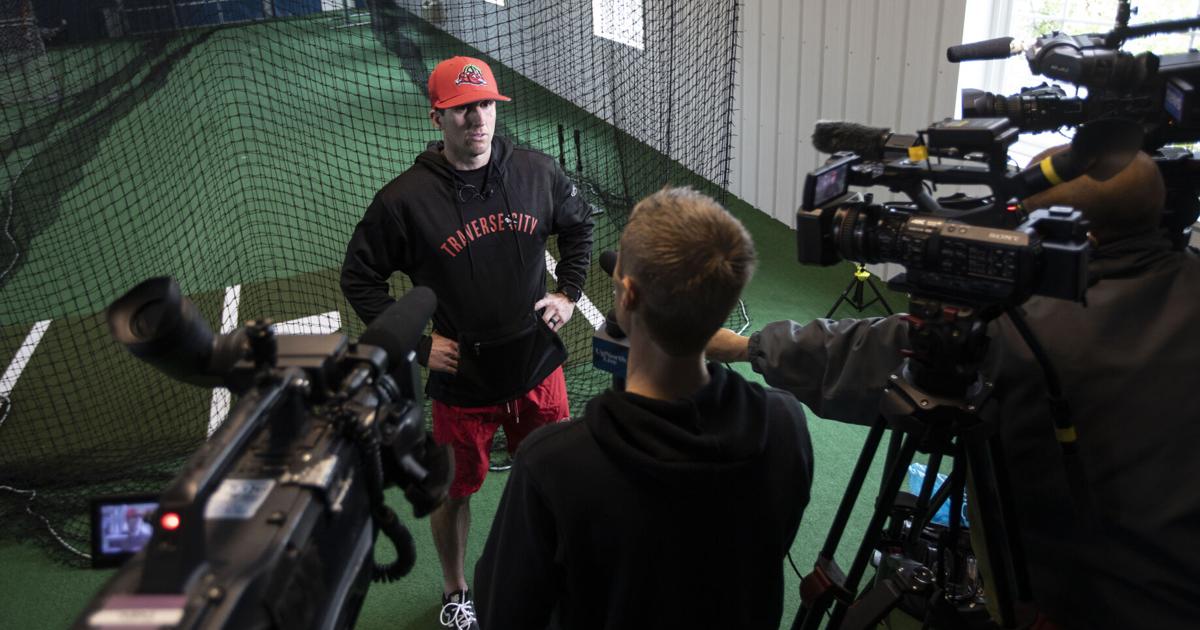 Stepping stone to the pros: Northwoods League serves as proving ground and showcase for the next level | Sports
TRAVERSE CITY – Whether it's a cup of coffee or a long tenure in the big leagues, the Northwoods League is shaping up to be a proving ground for players looking to grab the attention of scouts Major League Baseball and front office executives.
Last year alone, 100 players with previous Northwoods League experience were drafted by MLB teams over 20 rounds. The highest pick being Jordan Wicks, selected with the 21st pick in the first round by the Chicago Cubs. Wicks played for the Rockford Rivets – just outside of Chicago – in 2020
Of those 100 players drafted, a dozen played in the Northwoods League Major League Dreams Showcase. The Major League Dreams Showcase brings together 100 of the Northwoods League's top prospects to form four teams for a day of double-header scouting practice and action. This year's Showcase will take place on August 2 in La Crosse.
Northwoods players have enjoyed great success in MLB, winning numerous World Series championships – like Brandon Crawford (San Francisco Giants), Chris Sale (Boston Red Sox) and Max Scherzer (Washington Nationals). Many others have been named to the MLB All-Star Game, including former Detroit Tiger Curtis Granderson, Seattle Mariners outfielder Mitch Haniger, New York Mets first baseman Pete Alonso and third baseman Toronto Blue Jays Matt Chapman.
Many Pit Spitters signed with MLB clubs during the franchise's three short seasons.
Chase Wheatcroft was drafted by the Oakland A's in the 37th round of the 2019 draft. Luke Little, the great left-handed flamethrower, was a fourth-round pick by the Cubs in 2020.
In 2021, three Spitters were selected in the first 12 rounds and two more signed up as undrafted free agents. Spencer Schwellenbach was selected in the second round by the Atlanta Braves with the 56th overall pick. Chad Patrick went to the Arizona Diamondbacks in the fourth round, and Andrew Hoffman joined Schwellenbach in Atlanta, getting picked in the 12th round. Sam Benschoter was picked up post-draft by the Cincinnati Reds, and Evan Gates was also dropped from the Giants' undrafted free agent pool.
"It's one of the biggest reasons I love coaching in this league," Pit Spitters field manager Josh Rebandt said. "You get a front row seat to the top draft picks every summer, whether they're in our dugout or out in the field. Watching our guys who've already gone and been drafted and how they're doing in their league systems minor was really cool to follow.
Pit Spitters general manager Mickey Graham said that's one of the reasons fans come to Turtle Creek Stadium.
"That connection that we can make between the fans, the players and the stadium. And then in 3, 4, 5, 6 years, when these guys make the major leagues, these fans will remember the presence of this player, "said said Graham.
Team 2022 players know this is a possibility for them too.
Trey Truitt dreams of playing big one day. The North Carolina State product was sidelined for his sophomore season due to injury, so he sees his return to Traverse City and the Pit Spitters as an opportunity to not only improve for his junior campaign, but also to have eyes on him as scouts. .
"I'm sure it's everyone's dream here, to play in the big leagues," Truitt said. "This team definitely helps me to keep growing. When I get back down to the state, I can compete with those kids.
Truitt said Gates is a "great example" of someone to follow on his path to MLB.
"He's a guy who was never too big for him," he said. "He just played the game he loved as a kid and has continued to play it that way."
Truitt called the Northwoods League "very, very competitive" and said his coaches at NC State were thrilled he was playing in the league.
"It's a well-known name for having a lot of great talent coming out and going pro," Truitt said. "It's definitely a blessing to be able to play in such a competitive league with the dream I have of stepping up to the next level and being a professional baseball player."
Aaron Forrest is in his first year with the Pit Spitters. The Doane University pitcher in Nebraska said the Northwoods League offered good visibility.
"There will be times when I can potentially get looks to take it to the next level," Forrest said. "But ultimately I have two more years at university, so this is an opportunity for me to compete at a high level and see where I stand while giving my team a chance to win a few games."
The hope, Forrest said, is to continue to grow here.
"I really want to come in and compete and show that I belong – at least – at this level," he said.
Rebandt said he liked that the Northwoods have become such a positive springboard for the players on their way forward.
"Sometimes he's an under-the-radar guy who comes from a small school but has the ability to play professional baseball but just hasn't caught the eye yet," Rebandt said. "Hopefully those summers with us have prepared them for bigger opportunities."