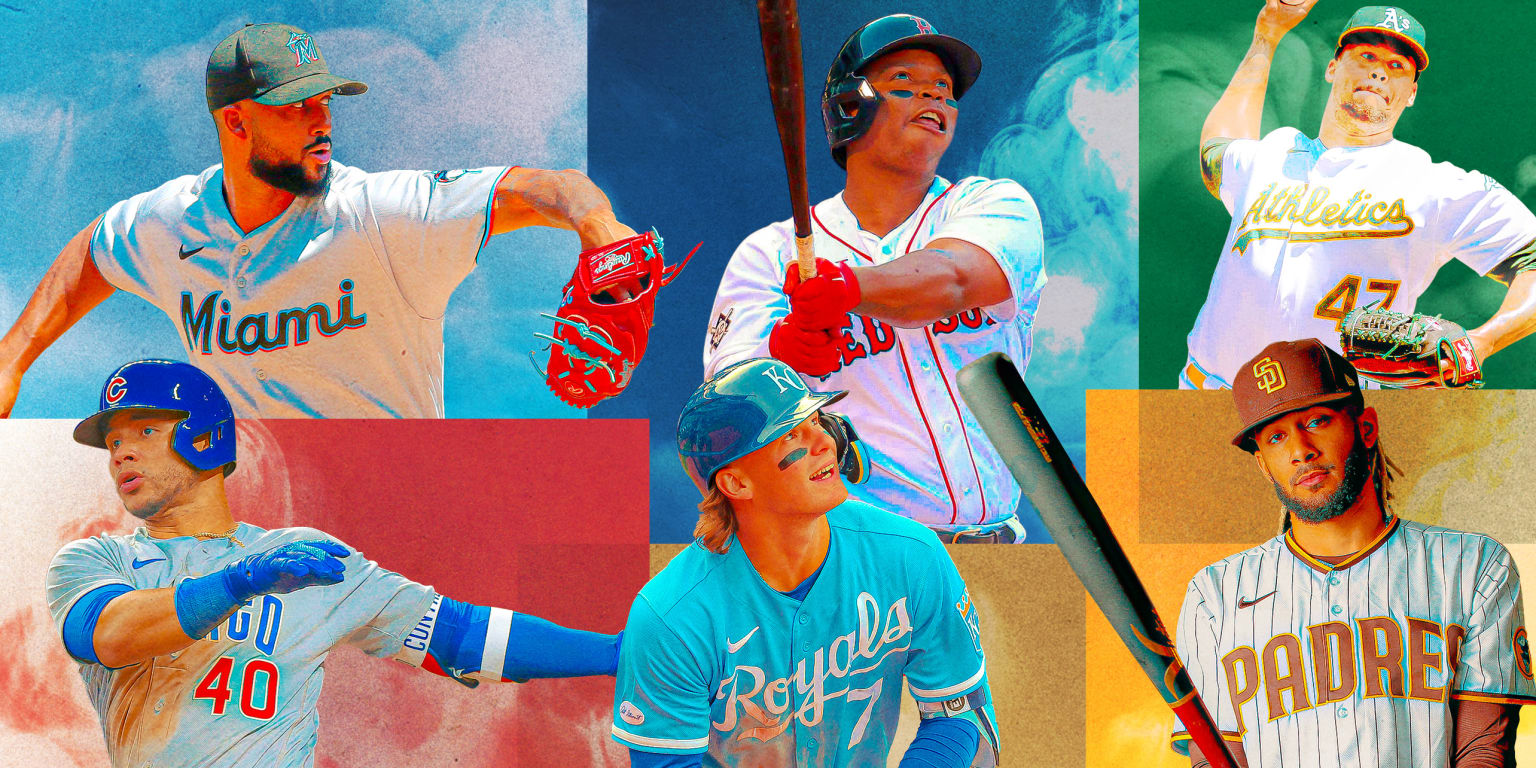 Second half prediction for every MLB team in 2022
Alright, the All-Star Game is in the rearview mirror, the trade deadline is right around the corner, and we're about to kick it off on the home stretch. That's the fun part, folks. Who knows what will happen?
Well, no one, but I'll give it a shot anyway. Here's a look, as we round the corner from the second half of the season, of a prediction for each team. All of these predictions are guaranteed to be correct, especially if you promise once the season is over that you won't go back and check it out.
Blue Jays: They'll find out, and it'll be fine.
So they're not going to catch up with the Yankees. The '27 Yankees couldn't catch the Yankees right now. The listless first half will still feel a decade ago in September, and this team is going to end up putting together a Wild Card series.
Orioles: Finishing under .500 has never been so wonderful.
The Orioles gave their fans legitimate cheer for the first time in several years, but that 2022 rush is unlikely to be repeated. That doesn't mean the Orioles won't have their best season in half a decade and a proof of concept for a front office that was just begins to feel a little warm.
Rays: For the first time since 2018, they will miss the playoffs.
There are all kinds of flashing red lights here. The pitching is still excellent – ​​if a little thinner than in the past – but the formation felt a little soft before Wander Franco went down. The Rays' perennial adversaries shouldn't be disappointed when they miss the playoffs a season, but I suspect they will.
Red Sox: They're just going to sneak into the playoffs.
It's been a roller coaster ride for Sox fans so far: they've written off their team early, rejoiced in their recovery, then lamented their recent battles (and the loss of Chris Sale). But the view here is that they will have just enough to earn the No. 6 seed and play three games against the AL Central winner – a very winnable series, for what it's worth.
Yankees: They won't break the winning record, but they'll still have their best record this century.
The Yankees won 103 games in 2009 (not by chance last year they won the World Series). They'll get past that, but, with the division essentially stalled by the trade deadline, they won't have the urgency to challenge the 1998 or 1927 version. Regardless: They'll be rested, healthy and ready after their first-round byes and their No. 1 seed overall.
Guardians: Their lack of movement will hold them back again.
The Guardians are again a team that could use a little boost or two over time. But I have a feeling they won't be as bold as maybe they should at the trade deadline and that will eventually see them finish just behind Boston for the last Wild Card spot.
Royals: The Bobby Witt Jr. explosion you've been waiting for is imminent.
Witt was good, if not spectacular, in the first half, but you can always see the talent that oozes out of him in every game he plays. Everything is about to fall into place for him. It may well happen soon – perhaps immediately.
Tigers: Spencer Torkelson will return better than ever.
He didn't ignite baseball, to say the least, but the skills are still there, even though he was recently moved to the minors. Tigers fans are desperate for something to feel good about this year. By September, Torkelson will be back and giving them much-needed hope.
Twins: They will miss the playoffs again.
The Twins could use extra time for their start, but even if they get it, the second half will be tough for them. Sure, they've got 17 games against the Royals and Tigers, but they've also got all kinds of tough out-of-division series: they get the Yankees, Dodgers, Blue Jays, Red Sox, Giants, Brewers, Padres and the Astros. It's the most difficult calendar in this division, and they won't have the right to make mistakes. It's still an improvement from last year's disaster, but I bet they just fall short.
White Sox: They win the division.
You might not consider that as vindication for Tony La Russa, but he'll probably always take it that way. The White Sox are healthy, playing better lately and have, in a way, the easiest schedule left in the American League. The first half was tough, but the first half is over. They have 38 games against teams with losing records, including 27 against the miserable A's, Royals and Tigers. You don't get rid of the White Sox that easily, folks.
Angels: "Trade Shohei" stories will begin before the start of the World Series.
Don't forget: he's a free agent after Next year. Do the Angels look like a team fighting for a playoff spot next year? It's the next big MLB story that you'll be constantly checking social media for updates on. Prepare yourselves.
Astros: We won't think about it until October, and that's fine.
Given all the fuss around the Astros in recent years, it's kind of remarkable how few people talk about what is clearly one of the top five teams in baseball. The Astros are running away with the division and going to get a first-round bye. It's perfectly set up for them. Hush.
Athletics: The return of Frankie Montas will be disappointing.
It seems highly likely that their ace – which is in the club's control until next season – will be traded in the coming weeks. It might just happen, and it might not. But like everything else in Oakland this year, it can't help but feel like a bummer at this point.
Mariners: Oh yeah, they do.
It may seem like they're not losing these days, but that's beside the point. What Julio Rodríguez brought to this team, overwhelming talent, energy, joy, swagger, convinced me. I don't know how long they'll last in the playoffs, and they might not even hold a game for those long-suffering fans. But this is the year the 21-year playoff drought ends.
Rangers: Third place? Of course, third place.
That might not be something to celebrate, especially considering how many games they're going to finish first. But it's not nothing. It might even be something to build on.
Braves: They'll catch up with the Mets.
That's not to insult the Mets, who may be even tougher in the playoffs than the Braves. But this Braves team seems better to me than the one that just won the World Series. In fact, they currently have a much better winning percentage (.600) than last year's club (.547).
Marlins: Sandy Alcantara wins the Cy Young.
Would you believe he will be the first Marlin to win one?
Mets: They will lose their division lead but will still host a playoff series.
The drop from the No. 2 seed to the No. 4 seed will seem like a lot, but there's no way the Dodgers — who they would face if the Mets win their Wild Card series — will want anything to do. do with a deGrom/Scherzer Combo in a five-game series.
Nationals: Juan Soto will be traded.
I wouldn't dare guess a destination. But it looks like he's going to be traded. It could happen in the offseason, but some insiders seem to think it's imminent.
Phillies: They're about to have the longest playoff drought in baseball.
They showed real fire following Bryce Harper's injury, but they still feel like they're going to run out of gas eventually. With the Mariners reaching the AL playoffs, that puts the Phillies atop the playoff drought list of dubious distinction.
Brewers: They'll lose the division, but hang in there for the playoffs.
For the first two months of the season, it looked like a stealthy World Series contender. But injuries, roster inconsistencies and some looming Josh Hader worries kept them out of the way. They're only one game away in Central right now, and the Cardinals have the easiest second-half schedule in baseball. It will be between them and Philly for the last place. They will cling, but barely.
Cardinals: They win the division…but still don't avoid the Brewers.
The only two observable teams in the division currently feel like they're set for a collision course, one way or another. The Cardinals have a stunning 38 games against the Reds, Cubs, Pirates and Nationals in the second half. If they can stay out of their own way, the division is theirs.
Pirates: They finish third.
In this division, that might not seem like a big achievement, but it would be the first time they've done it since 2016 when they started this rebuild in the first place.
Reds: Hunter Greene will show enough flashes to give everyone hope.
There is hope for the Reds in the next two years. you can see it if you squint. Greene won the NL Player of the Week award a few weeks ago. He has a long way to go, but the talent is clearly there.
D-backs: They'll ruin someone's season.
Arizona has the third toughest schedule going forward, with games against the Dodgers, Mets, Braves, Padres, Brewers and Cardinals. They are a little better than you think. Someone in a pennant hunt is going to assume they have wins in the books, lose two out of three, and suddenly feel like they're in big trouble.
Dodgers: They will win more games than any other Dodgers team.
They set the Dodgers' all-time winning record last year with 106, which most people didn't notice because they finished second. But they are well placed to beat him this year. As always: The road to the Series will go through Chavez Ravine.
Giants: Missing the playoffs will feel like a bigger step back than it is.
It's actually really impressive that the Giants are in the middle of the race the way they are. But the 2021 107-win season has set the bar incredibly high. It's still a franchise on the right track.
Padres: Fernando Tatis Jr. will be back soon enough to make you forget his absence.
It's a shame he hasn't played so far this season but he has enough talent to make up for that missed time in all facets of the game.
Rockies: Kris Bryant will end up being their best player after all.
After an almost lost first half, he came back recently and started throwing the ball around like we thought. There's more of that to come and plenty of time for the team to feel good about this long-term deal.