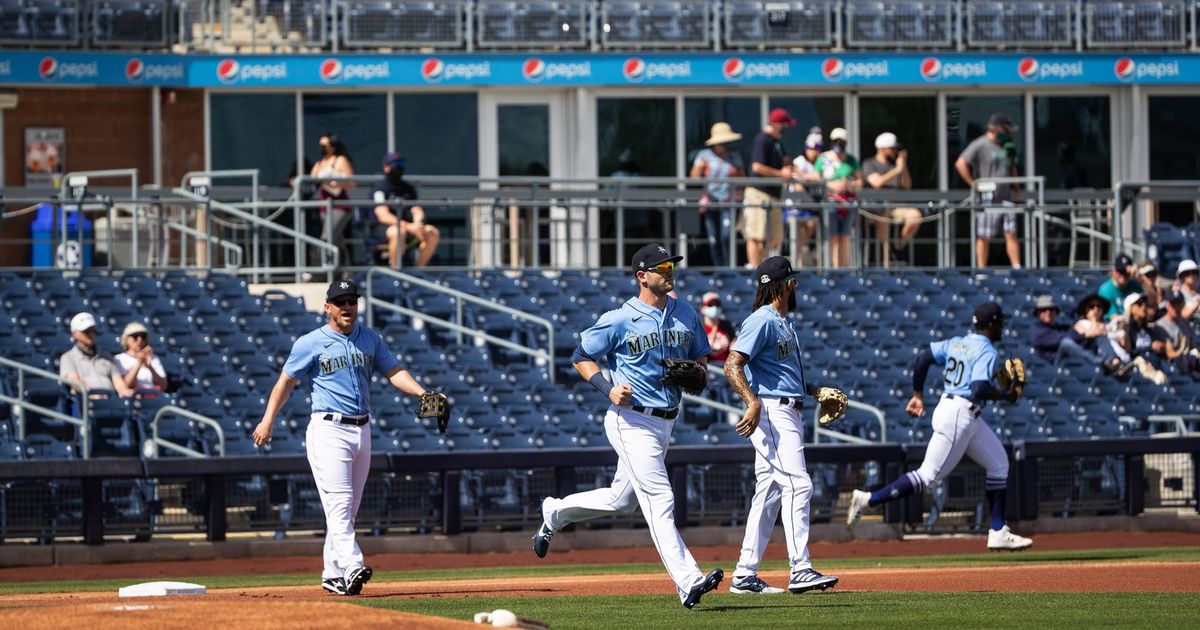 Sailors' Mailbag: Answering Questions About Spring Training, Lockdown Deadlines, and Uniform Changes
Contrary to popular belief and the hopes of some readers, the Twitter Mailbag has not been subject to lockdown protocols of any kind.
But the recent hiatus – to be fair, some of it was self-imposed — was swayed by Major League Baseball owners who brought things to a screeching but expected halt. The uncertain future of the offseason resumption and the looming fear that the start of the season will be delayed has made the process difficult and somewhat infuriating for fans of the game.
But the mailbag has never relied solely on MLB or the Mariners for content thanks to global questions provided by the polymaths who are my Twitter followers.
To be honest, Carolyn, the difficulty of getting spring training tickets or their higher prices might be the least of your worries.
Given similar reports from multiple outlets after Thursday's video meeting between the MLB and MLBPA owners' bargaining committees, the announced schedule of spring training games in Arizona and Florida appears to be in danger of d be at least modified, if not reduced.
Based on the stories, the MLBPA was dissatisfied with the owners' economic presentation which did not address core issues such as the competitive balance tax and player service time in free agency. Proposals on draft MLB lottery, minimal changes to salary arbitration and changes to avoid service time manipulation – which seemed disappointing – did little to improve the situation. When the MLBPA comes up with a counter-proposal or what they listed, it will be instructive to update a schedule that tends toward a delayed start for players showing up for spring training (pitchers and catchers were originally scheduled to appear on February 15 and 16 and player position on February 20 and 21).
The thinking has always been that if MLB and MLBPA can finalize something around Feb. 6-8 at the latest, it would allow most players, even players who are currently unsigned, to get to the game. spring training a little closer to these report dates. .
And if they don't reach a deal by March 1, it's hard to see the regular season start as planned.
Besides the precarious labor situation, there is also a pandemic that MLB will still have to deal with when an agreement is reached.
Is it fair to be pessimistic about the situation? Given the behavior of both sides in recent years, that's probably realistic.
But to answer your question, I don't think the last weekend of the season and the heightened expectations for the Mariners in 2022 will make getting spring training tickets that much more difficult or expensive than in the past last years.
A few things to note about this:
You will find that the cost of tickets to spring training games has increased significantly over the past five years. Cheap tickets to small stadiums, close access to players, low-cost concessions and much-needed sunny days to break the winter, once a well-kept secret among baseball fans, have become a huge win for income. for the teams.
The days of spending $8 for a ticket to sit on the grass berm and sip a $4 beer are gone like sacrificial bunt and stirrups.
A quick look at tickets available for Mariners games at Peoria Stadium shows that lawn seats range from $18 to $20 each, while most lower bowl seats start at $38.
Home games against the Cubs, Giants and Dodgers will attract a large number of fans of these teams. These are the biggest draws in the Cactus League and the demand for tickets is noticeable. If you don't buy early, the secondary ticket market will usually be inflated for these games. If you're traveling to watch the Mariners take on the Giants at Scottsdale Stadium or the Cubs at Sloan Park in Mesa, expect higher ticket prices and big crowds.
Listening to friends and family members who have traveled to Arizona in recent (pre-COVID) years, they have found that going to Mariners road games compared to some teams that don't have massive fans like the Brewers, White Sox, Reds, Guardians and A translates to pretty optimal experiences.
As in the regular season, midweek games attract fewer fans while weekend games always attract more people. Sunday matches are regular draws for larger crowds.
When you arrive in mid-March and the weather gets even warmer, crowd sizes will increase during midweek games with schools over spring break and families seeking sun. Teams will also begin playing night games in recent weeks. Night games, especially those played on weekends, will draw the biggest crowds.
From an all-encompassing experience, including amenities, concessions, seating and parking, games played at Salt River Field – home of the Rockies and D'Backs – are the best. Conversely, Tempe Diablo Stadium, where the Angels play their home games, is an ugly, outdated building that should be avoided especially in hot weather.
Hopefully both sides understand what's at stake and we can have normal spring training.
As someone who works in the media, this is not a superficial question. A shallow example would be a reporter at a group media session saying, "Can you talk about your performance tonight?" Then run on Twitter and say, "I asked about (insert athlete's name) performance tonight and he said…" That's shallow.
As for the uniforms, several people asked for changes to the uniform. I'm on the case for being against teal highs (I'll never call them Northwest Green).
The process of changing uniforms or changing brands is a lot more complicated than people think. An application must be submitted to Major League Baseball years in advance. So when the Mariners added the alternate throwback uniforms for Sunday home games in 2015, that process began more than two years before the announcement.
Rumors were circulating on various platforms that the Mariners were considering major changes to their uniforms. I haven't heard anything more than the possibility of incorporating a specific navy blue alternate top for home games.
With Nike as the new uniform manufacturer, there could be some streamlining of team uniforms instead of an increase.
Again, it's teal, and it's ugly.
Well, you forgot question #4. But let's get to them.
I think thrilled might be an understatement. And I'm sure my editors are even happier with the decision.
I prefer my gigs at the Tractor Tavern or the downtown ShoBox.
Although my editors may disagree based on past reporting, I don't know if I'm capable of writing a book. The volume of words seems daunting. The process also takes a focus and commitment that I just don't have right now due to my constant struggles with ADD.
Before COVID, they provided free soda and coffee and popcorn at T-Mobile Park as well as paid media meals. But the last two seasons have been different because of the protocols. We either brought food and drinks or got them from the concession stands. Other stadiums have opened up their press situations more based on state and local guidelines.
It's probably a good idea, but it can be difficult to do given the housing costs in the PNW, forcing many people to live from paycheck to paycheck.
At this point — and it's with the caveat that he's completely healthy — I think Kyle Lewis will be the designated hitter in at least four of six games in a week. I also don't see him playing back-to-back days in the outfield at the start of the season. There's no reason to risk further damage to his troublesome left knee.