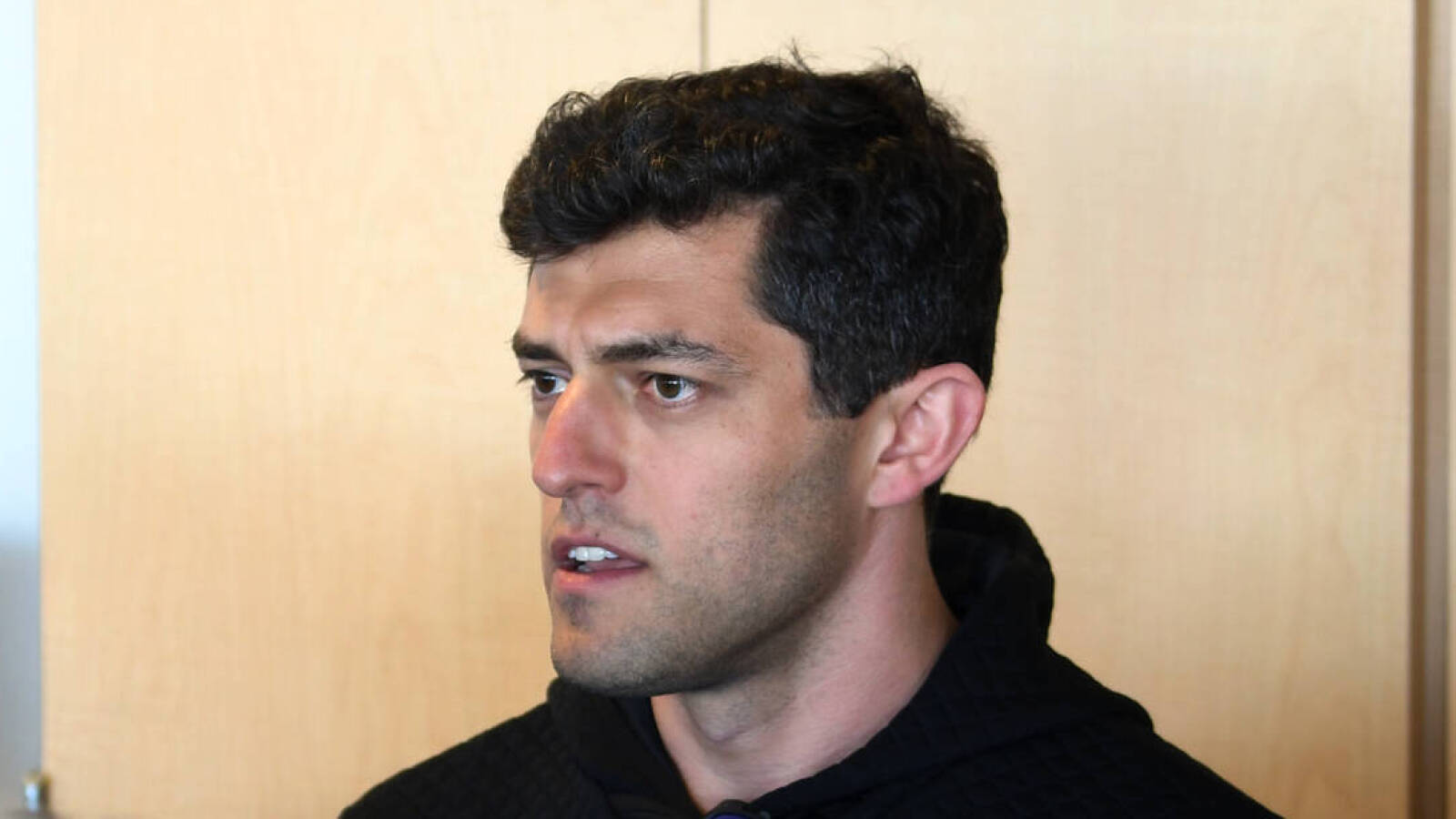 Red Sox Chaim Bloom discusses team's unconventional trade deadline
As Chief Baseball Officer Chaim Bloom suggested in the days leading up to the Aug. 2 trade deadline, the Red Sox resisted strict categorization as a "buyer" or a "seller." Boston dealt No. 1 receiver Christian Vázquez to the Astros, traded reliever Jake Diekman to the White Sox for Vázquez replacement Reese McGuire, and acquired Eric Hosmer and Tommy Pham. While Boston reportedly listened to offers from JD Martinez, Nathan Eovaldi and Rich Hill, this group of rentals remained. So did stars Xander Bogaerts and Rafael Devers, neither of whom was apparently ever really available.
The unconventional approach was a response to the Sox's status just outside the AL Wild Card picture. They sat two games back at the deadline, but had only gone 8-19 in July, leading to calls for more dramatic action either way – either destroying the roster in decline, or by more aggressively correcting its shortcomings. The Boston Globe's Alex Speier writes that the team's more fluid approach to the deadline has confused various members of the organization, both uniformed personnel and players and coaches as well as some front office staff.
Speaking to Speier, Bloom acknowledged the team's atypical approach, but expressed his belief that the franchise was unable to move in a more specific direction.
"I understand why people could look at what we did and scratch their heads. For us, it was pretty clear and simple enough that the position we found ourselves in required a unique response.
Speier sheds light on some of the Sox's pre-deadline talks that ultimately didn't come to fruition. He reports that the club have expressed some interest in A's controllable receiver Sean Murphy while juggling potential shorter-term upgrades. According to Speier, the Red Sox were considering an imminent free-agent reliever run, but the club ultimately didn't add to a bullpen that currently ranks 26th in the ERA majors (4.42).
At the same time, Boston apparently had no incentive to forfeit the salaries of players like Martinez and Eovaldi to dip below the $230 million base luxury tax threshold. With the deadline passed, the Sox now seem almost certain to pay the tax in 2022. The actual fee will be quite small — likely just a few million dollars — but it will force the Sox to pay escalating penalties if they exceed the threshold. again in 2023.
Not forcing midseason pay cuts on a year-long roster after an ALCS appearance is certainly understandable, but one could argue the Red Sox should have added more aggressively in this instance. Pham and Hosmer address the team's biggest weak spots on the positional side — right field and first base, respectively — but neither veteran is having a great season.
A week is certainly not enough time to base firm conclusions, but a 2-4 streak since the deadline has set Boston back five games in the Wild Card race and has only increased the difficulty of a push to the playoffs late in the season.
The Deadline reshuffle reduced playing time for a pair of regular players who didn't play as expected. Boston released Jackie Bradley Jr. last week, ending his second stint with the organization after averaging .210/.257/.321 in 290 plate appearances. Bobby Dalbec remains on the active roster, but he no longer appears to be Boston's primary first baseman. Hosmer and Dalbec have formed a squad since acquiring the former, and left-handed hitter Hosmer will be in the line for most of the playing time in this arrangement.
Boston Globe's Pete Abraham writes that Dalbec will start working at second base in an effort to expand his defensive flexibility. The 6-foot-4, 227-pound infielder has never started a pro game at second base. Aside from a few catch-up innings in the middle of the infield, he played exclusively in the corners. Dalbec conceded he was an atypical size for an inside midfielder, but expressed confidence in his ability to handle the keystone adequately.
The 27-year-old has also expressed a desire to play regularly. "The more I play, the better I will do. It has always been like this. I'm used to being an everyday player. It's hard to be successful when you have bats here and there," Dalbec told Abraham. "I am not the player I will be. It's all part of the learning process. In terms of organization, I don't know how they see me. I just want to help the team win. Honestly that's all that matters. I don't see myself as a squad player, but right now that's who I am."
Dalbec hit 25 homers last season, but hit an alarming 34.4% clip. The Red Sox nonetheless looked to him as a primary first baseman for much of the year, but he fell to a .205/.280/.369 line in 300 trips to the flat. Dalbec made some modest improvements to his strikeout and walk numbers, but his contact quality and batted results have plummeted. After connecting on 51 extra hits in 133 games last season, he's had 20 in 97 contests in 2022.
Hosmer and Dalbec could possibly lose playing time to top prospect Triston Casas, who returned from a stint on the Triple-A injured list late last month. Recently named the No. 30 prospect in the game by Baseball America, the mighty Casas boasts a solid .246/.350/.455 showing through 223 plate appearances with the Sox's top affiliate in Worcester. The 22-year-old doesn't have to be added to the 40-man roster until the end of the season, but it wouldn't be a surprise if he gets his first MLB look at the end of this year if he continues to hitting well with the WooSox.