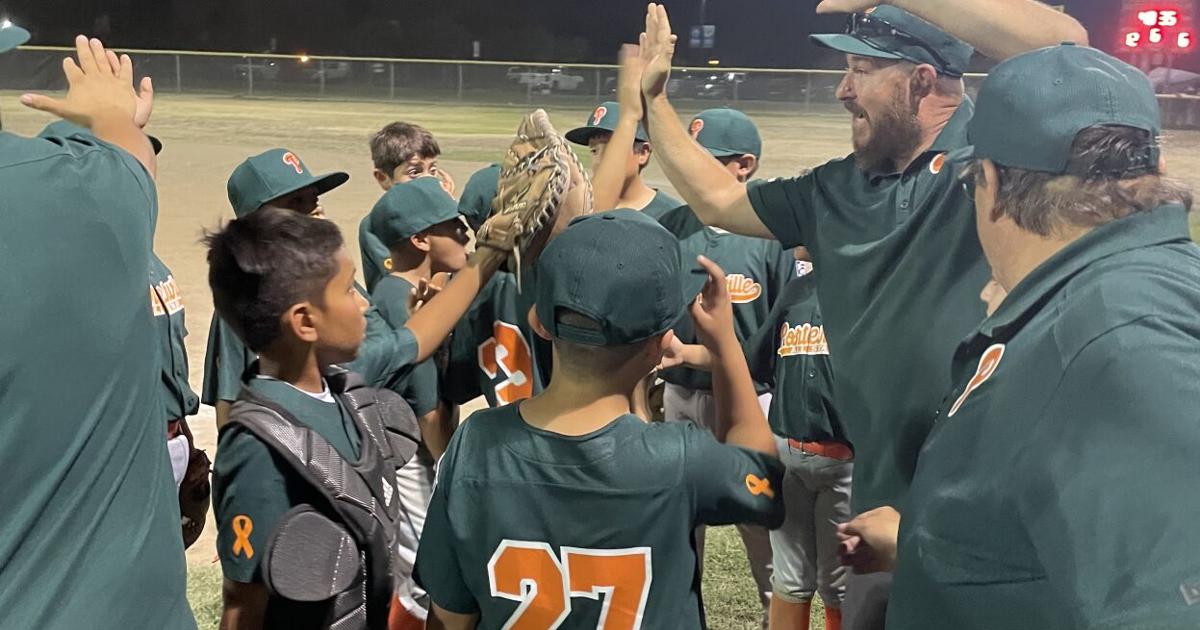 Porterville Strong: Local Little League All-Stars Advance to Championship Round | Pictures
The number on the back of the orange and green jersey worn by Justin Hernandez to the Visalia players was meant to be an ominous sign and as big as it gets. The number 13.
Hernandez, Porterville's 9-10 All-Star starting pitcher, set the tone during Monday night's District 34 Little League Tournament baseball game between Porterville and Visalia at Burton Ballfields. And while Visalia came back briefly to take the lead, Porterville would not be denied and eventually pulled out for a 12-6 victory.
Porterville were dominant in their two games of the tournament advancing to the Championship round as they opened with a 21-3 victory over Exeter. Porterville now finds itself one win away from winning the district title as it next plays in the championship round at 7 p.m. Thursday at Burton.
"A lot of talent here," Porterville coach Frank Rodriguez said of his team. "It's a very positive group. They play together. They play for each other. »
Rodriguez also said he was playing for 10-year-old Kenny Webber, who played about halfway through Porterville's Little League season before having to retire. Rodriguez said Webber was at Valley Children's Hospital with leukemia.
"He would have been here," Rodriguez said of Webber making the all-star team. "We have him in mind. We play for him.
As Hernandez set the tone, Julian Guzman applied the finishing touch by pitching the last 2 2/3 innings to take the win. He also had the big hit, a 2-run triple, when Porterville opened the game with a six-run rally late in the fourth inning to take a 12-5 lead.
Hernandez had opener jitters as he scored the first batter on four pitches and he eventually hit the no-out third. But Hernandez got a strikeout and catcher Ayden Vasquez scored the runner on third trying to score on wild pitch.
Porterville took a 2-0 lead on Cruz Ojeda's two-run single on the left late in the first. After two walks and a single in the third, Visalia scored on a groundout to cut the lead to 2-1. After the groundout, Hernandez was relieved after striking out five in 2 2/3 innings.
Visalia took a 3-2 lead on a bizarre play when they scored two runs on a bad jump, field single.
But Porterville responded with four runs late in the third to take a 6-3 lead. Luis Mosqueda scored a single during the rally and Ojeda eventually beat a single into the field to drive home a run to tie the score 3-3. Austin Sanchez eventually hit a two-run single to give Porterville a 6-3 lead.
Visalia scored two runs in the fourth on the strength of two errors and a wild pitch to cut the lead to 6-5. Guzman came in with a runner at third and an out to protect the lead. Guzman struck out a batter, then Vasquez pitched to Guzman who got the runner out of third trying to score on a wild pitch to end the inning. Guzman ended up going three innings out in 2 2/3.
Porterville then opened the game in the bottom of the fourth. Ojeda had another 2-run single to give Porterville a 9-5 lead.
After Hernandez hit a field single, Guzman followed with his 2-run triple wide to left center field. Andrew Sanchez then hit an RBI single to give Porterville a 12-5 lead.
Ojeda had a huge game for Porterville with three hits and five RBIs. Sanchez had two hits and three RBIs, Hernandez had two hits and Julian Bedolla added a hit for Porterville.
"It's a great group of kids here," Rodriguez said. "They're just a great team to coach."