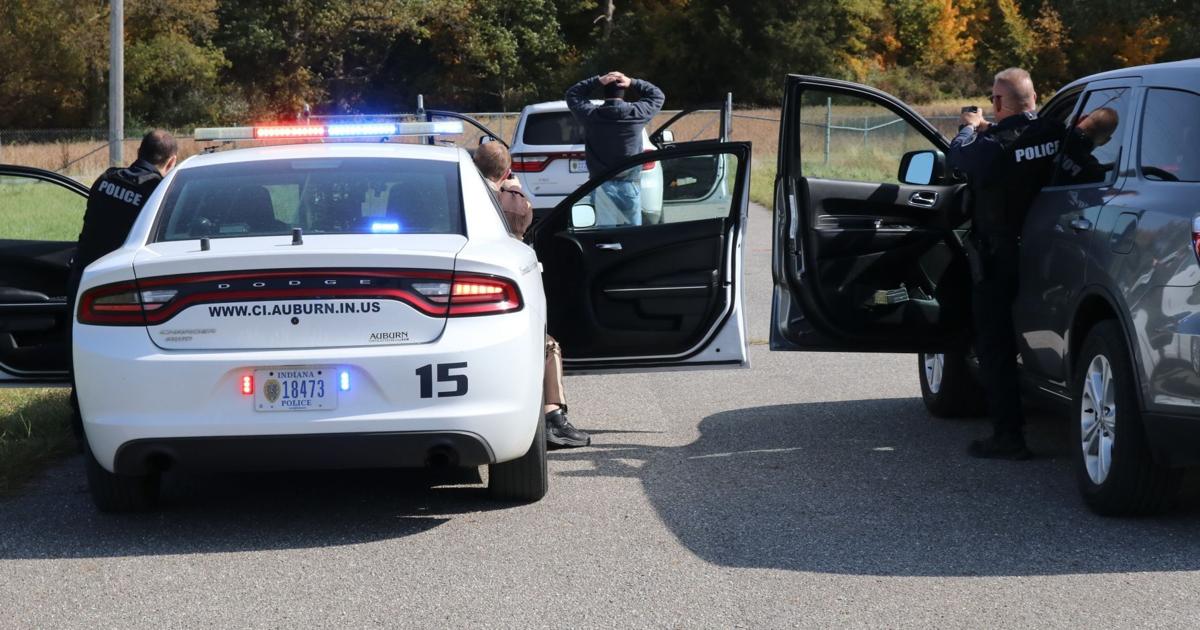 Police hold emergency vehicle training | The star
AUBURN — Knowing what to do and what not to do in an intense situation can mean the difference between life and death.
When the police are in their patrol vehicles — their offices on wheels — it's important to know what that vehicle can and cannot do before they have to.
Last week, officers from multiple DeKalb County jurisdictions participated in Emergency Vehicle Operations (EVO) training at the former RM Auction Park in South Auburn.
The week-long training session brought together officers from the Auburn, Butler and Garrett Police Department and the DeKalb County Sheriff's Department.
"It's been one of my big efforts, trying to get all the county agencies working together and training together," Auburn Police Chief Cory Heffelfinger said. "We want to be on the same page if we have a major incident."
emergency driving
Officers are required to participate in two hours of training on the use of emergency vehicles each year.
Over the week, officers drove various vehicles – patrol cars, trucks, sport utility vehicles and vans used for prisoner transport – on a course defined by bright orange pylons dotting the parking lot adjacent to one of the former auction buildings.
"The big thing we're working on is evasive maneuvers," Heffelfinger explained. "We find that a lot of officers who have accidents back off.
"We want them to be able to drive within their abilities and their limits," he said. "Everyone's limits are different.
"We want people to know what their abilities are and how to stay and drive within them."
The course included different scenarios and tasks. Officers were timed by speed and led by one of four certified emergency vehicle operations instructors. The instructors sat in the front passenger seat.
Before the start of the timed test, officers were allowed to drive the course to familiarize themselves with the layout. Then, "they pick up their speed and go as fast as they can but are also in control at the same time," Heffelfinger explained.
Depending on the vehicle being driven, speeds can reach 60 mph when cornering.
Several cones placed together represented a "gate", where officers had to come to a complete stop before making another move. At a "gate", officers had to back their vehicle several feet in a straight line.
"It could be someone attacking you with a gun," Heffelfinger explained. "They retreat back to get away from this danger."
In another part of the course, several cones have been arranged in right, left and right patterns. The instructor gave instructions and the driver had to react instantly without hitting any cones.
Knocking down even a single cone means the officer must take the test again.
On the course, it is a traffic cone, but on the street, this traffic cone can be an object on the road or a child who has run away in the street.
"We teach them the proper way to use the brake and gas pedal and their hands," Heffelfinger explained. "What you don't want to do is cross your hands.
"We've also moved them back so they're used to using their mirrors or looking over their shoulder."
Officers are instructed not to cross their hands so as not to strike or engage equipment in the police vehicle.
"We try to put as many skills as possible into one course," Heffelfinger said.
"As far as EVO training goes, the most important thing we try to do is put officers in what we would call a stressful situation," Auburn Police Deputy Chief Sean Miller explained.
"It's just to add that stress because hopefully when they're on the street, when they start to feel the stress of a chase, that race at signal 10, lights and sirens, they say "I've been through this before, it's OK" and your mind starts to slow down.
"A good analogy that I always use with people, if I put you in front of a Major League Baseball player and tell you hit that 100 mph pitch, 'Geez o' Pete's, it's already done , but after you do it time and time again, that tone starts to slow down.
"That's all we're trying to do for these officers, when that stress starts to get you excited, you just slow down," Miller said. "You've been there before. It's what we do and why we do it.
"We see a direct correlation between the training we do here and the mistakes that are made are not made on the streets because they have already experienced them.
"They know how their car is going to behave. They know what that breaking point is before I start losing control," Miller said.
"I can talk to you all day about vehicle dynamics, but until you feel that thrust and roll, you don't know exactly what I'm talking about."
Pursuit, traffic stops
Other training scenarios involved pursuits – with officers required to use the radio to indicate the route of travel – and how to perform a criminal traffic stop.
One or more police officers depicted fleeing criminals as other police officers parked along the pursuit road to practice deploying tire deflators in front of these vehicles as other police officers followed in pursuit .
In the felony stop scenario, several police officers stopped a suspicious vehicle, and with guns drawn, they practiced good manners to order the occupants out of the vehicle and take them into custody.
"We try to make these scenarios quite realistic," Heffelfinger explained.
Chase scenarios also allowed police to deploy drones to assess from above. "They'll steal a bit from the pursuit and may criticize the guys – your space is too close or not close enough."
Drones have other uses. "Let's say at the end of a felony arrest they have a guy who won't get out of the car, we can use the drone," Heffelfinger said. "We can place the drone just above the bonnet of the vehicle. The drone was able to clean the inside of the car for us.
"Lots of vehicles with tinted windows, when officers get in they can't see into them. If we can get a view through the windshield without putting an officer in danger…we can help facilitate a safe end .