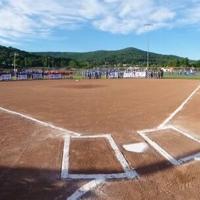 Pennsylvania State Little League Tournament Returns to Bradford | Baseball
Pennsylvania's top Little League teams will once again converge on Bradford this summer.
Bradford Regional Little League (BRLL) and District 10 will host a Pennsylvania Little League State Championship for the fifth time since 2013, but this time the stakes are arguably higher than ever.
Eight teams will travel to McKean County for the July 27-August 1 tournament. The champion, as part of a new regional roster, will come within striking distance of South Williamsport, the Little League World Series and a week-long spotlight on ESPN.
"We look forward to showcasing our community and showcasing the beauty of Northwestern Pennsylvania," said District 10 Administrator Barry Bacha. "It's 'the big one,' as they say, where the winner will go to regionals with a possibility of going to Williamsport. It's a very good draw."
Little League offers four different "World Series" baseball tournaments, covering its different age groups. However, when people think of the Little League World Series – the edition of the tournament that receives national television coverage of every game – they are referring to baseball's Under-12 Championship.
This summer will mark the second time Bradford will host the Under-12s, the flagship division which will eventually play its World Series championship game at the Howard J. Lamadie Stadium in South Williamsport. All Pennsylvania State Tournament games will be played at the Kessel Sports Complex in Pitt-Bradford, as a mound will be constructed on the softball field, as has been the case in previous years.
To reach Bradford and the state championships, teams must win two previous tournaments.
First, they will participate in their corresponding district tournament. The state is divided into 31 districts, and this year a July 15 deadline is in place for each to crown their champion.
Each district winner will qualify for one of eight section tournaments, which will take place from July 19-23. For example, BRLL competes in District 10, which joins District 1, District 3, and District 25 to form Section 1.
Each Sectional Champion will then move on to the Bradford State Tournament, where a Mid-Atlantic Regional Tournament bid will be in play. The winner of the Mid-Atlantic Tournament – ​​now made up of champions from Pennsylvania, Maryland, Delaware and Washington , DC – earns a spot in the Little League World Series.
The location of the state tournament rotates between Sections each year, meaning Section 1 has the chance to host the Under-12 Tournament once every eight seasons. Bradford hosted it the last time Section 1 was eligible, in 2013.
Since then, Bradford has hosted the Under-10 State Softball Tournament in 2015, the Under-10 Baseball Championship in 2016 and the Under-11 Baseball Tournament in 2018. This year, however, BRLL will once again host the first Little League circuit.
"Because of our hosting history in the past, that was one of the driving factors why we brought him back here," said Bacha, who took over as district administrator in 2018. , succeeding Glen Fiebig. "(Fiebig) shot us and gave us the opportunity to host a state tournament (in 2013), and we got great reviews. The teams enjoyed being here and the community really rallied and embraced it. This is what pushed us to host the other tournaments.
Admission to tournament games will be free, as is the case for all Little League tournaments. BRLL will be running a 50/50 raffle each game to help offset costs, and will feature a concession stand throughout the tournament.
"We sent sponsorship request letters and met with the UPB to coordinate the use of their land," Bacha said. "It's a lot of 'hurry up and wait' things. We just want to be ready to bring the event here and have a good performance.
Each of the eight invited teams will have two hosts to help with logistics during their stay. The tournament will also use local referees and hopes to attract trade to local businesses.
"Without this tournament, the 80 hotel rooms we are booking would not be filled," Bacha said. "People will eat in our restaurants; shopping in our downtown boutiques.
"It's really a boost for the local economy, because without the tournament, people would get their money elsewhere. It's great for us as Little League, but it's also great for the community.
The expected daily crowd for the tournament is hard to estimate, but with eight teams each consisting of a dozen or more players, 100 or more families could be in the area. The 50/50 prize for the 2013 championship game, Bacha said, was over $1,700.
"Usually when you run a 12-year-old tournament you know what to expect based on the results of their 10-year-old year," Bacha said. "When this group was 10 years old, state tournaments were wiped out by Covid. It's kind of a dice game – we don't really know who's going to be here or what to expect.
The teams will gather for a banquet at UPB the day before the tournament, which begins at 11 a.m. Wednesday when Section 5 take on Section 7. After five days of play, the league match will take place on Monday.
Bacha thanked the BRLL board and league president Jeremy Luna for their efforts in organizing the tournament. Community support, he said, has always been essential in bringing the tournament to Bradford.
"I can't thank (UPB) enough for allowing us to take over their resort for a week," Bacha said. "We convert their softball field to a baseball field and they just give us access to the whole area."
Tournament teams will be announced after the end of the section tournaments on July 23. More information will be available online closer to the tournament.