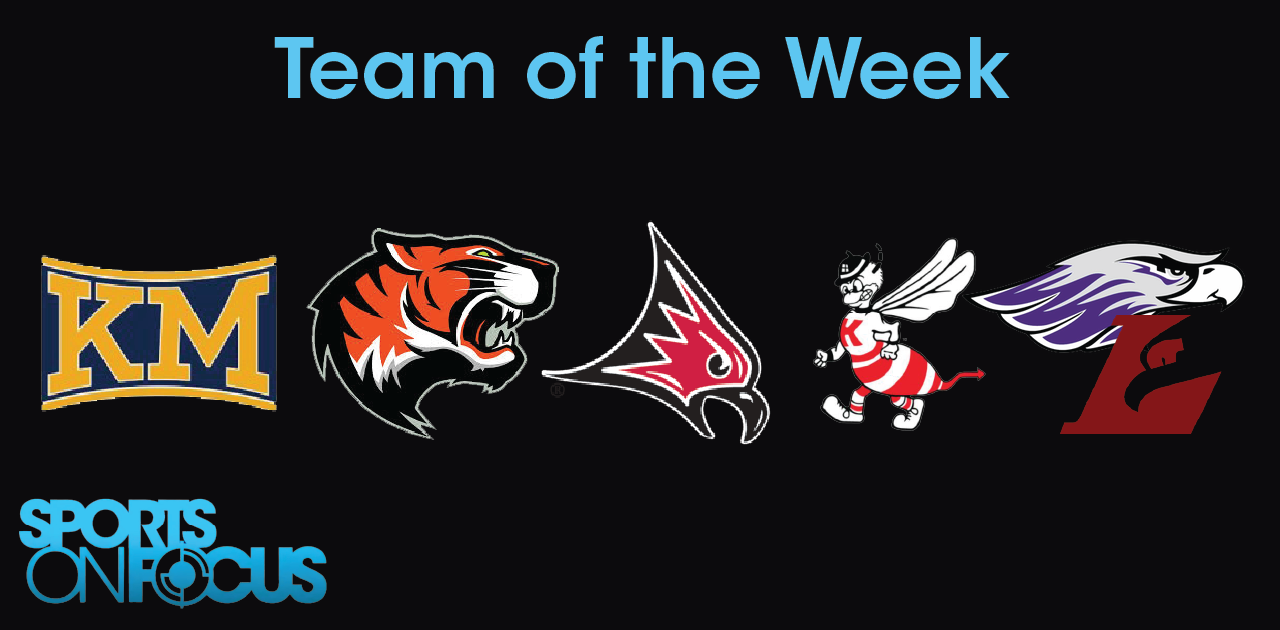 OnFocus Team of the Week, November 13 – November 19
Check out the excellent batch of nominees for OnFocus Team of the Week, November 13-19!
Link: Nominate the best sports performances: Athlete of the week and Team of the week
OnFocus Team of the Week, November 13 – November 19
Moraine Football Kettle – The Lasers entered the very difficult Classic Eight conference, finishing the regular season with a 6-3 record. However, Kettle Moraine stormed into the playoffs, winning the Division 2 state title with a 27-10 win over West De Pere. The Lasers outscored their opponents in the playoffs 135-44.
Stratford Football – The Tigers capped off the season with a Division 6 championship, beating Mondovi 32-14. After starting the season by leveling Mosinee and falling to Edgar, Stratford have won 12 straight.
UW-River Falls Football – The Falcons won their second straight Isthmus Bowl game, beating the University of Washington-St. Louis (MO) 31-24. The Falcons won the first two games in bowl history, played Saturday at Bank of Sun Prairie Stadium. UWRF beat Washington University-St. Louis last season in the first Isthmus Bowl, 48-27.
Kimberly Football – The Papermakers won the Division 1 state title in exciting fashion, scoring on a five-yard touchdown from Blake Barry with 26 seconds left, beating Mukwonago 34-30.
UW-Whitewater Football / UW-La Crosse Football – Whitewater and La Crosse are tied for the WIAC Conference title with 6-1 records, each advancing to the Division 3 playoffs. Whitewater fell to Aurora 33-28 while La Crosse lost a decision 14-6 against Waverly (IA).
Voting ends Wednesday at 5:00 p.m.
2022 WIAA Soccer State Championships Scoreboard: Scores, Game Stats
2022 WIAA Football Playoffs Level 4 STATE SEMI-FINALS UPDATED Scoreboard
WIAA 2022 Tier 3 Football Playoff Scoreboard: FINAL SCORES, STATS
WIAA 2022 Tier 2 Football Playoff Scoreboard: Scores, Stats Links
WIAA Football Playoffs: Level 1 Scoreboard: Scores, Stats Links, Match Reports for ALL Divisions 1-7, 8 Players
************************************************** **** *********************
Do you know of high-level sports performances? Do you see great teams in action?
We can use your help, and it's simple. Attend great performances? Do you hear about the best athletes and the best teams in our region?
Athlete of the Week and Team of the Week:
Nominate an athlete or team: HERE
**************************************************
Pancakes or waffles !

We feature top athletes with our world renowned feature. Send us your nominations who you would like us to interview for

HERE
Overview of college athletes!

We want to recognize local student-athletes who compete at the college level. Send us information about college athletes in the area with our simple form

HERE
Where are they now? We feature athletes and difference makers from the past, sports stars who have excelled over the years and who have evolved. Do you know a former athlete, coach or difference maker that we should feature? Do you know a former standout competitor whose journey beyond central Wisconsin sports is one we should share? Send us information about past athletes and difference makers with our simple form HERE
Baked or Fried!

We also feature Central Wisconsin Difference Makers: Coaches, Rappel Club Leaders, Administration, Volunteers, and more. Send us your nominations who you would like us to interview for

HERE
Your stories are welcome! Contact us at [email protected]!