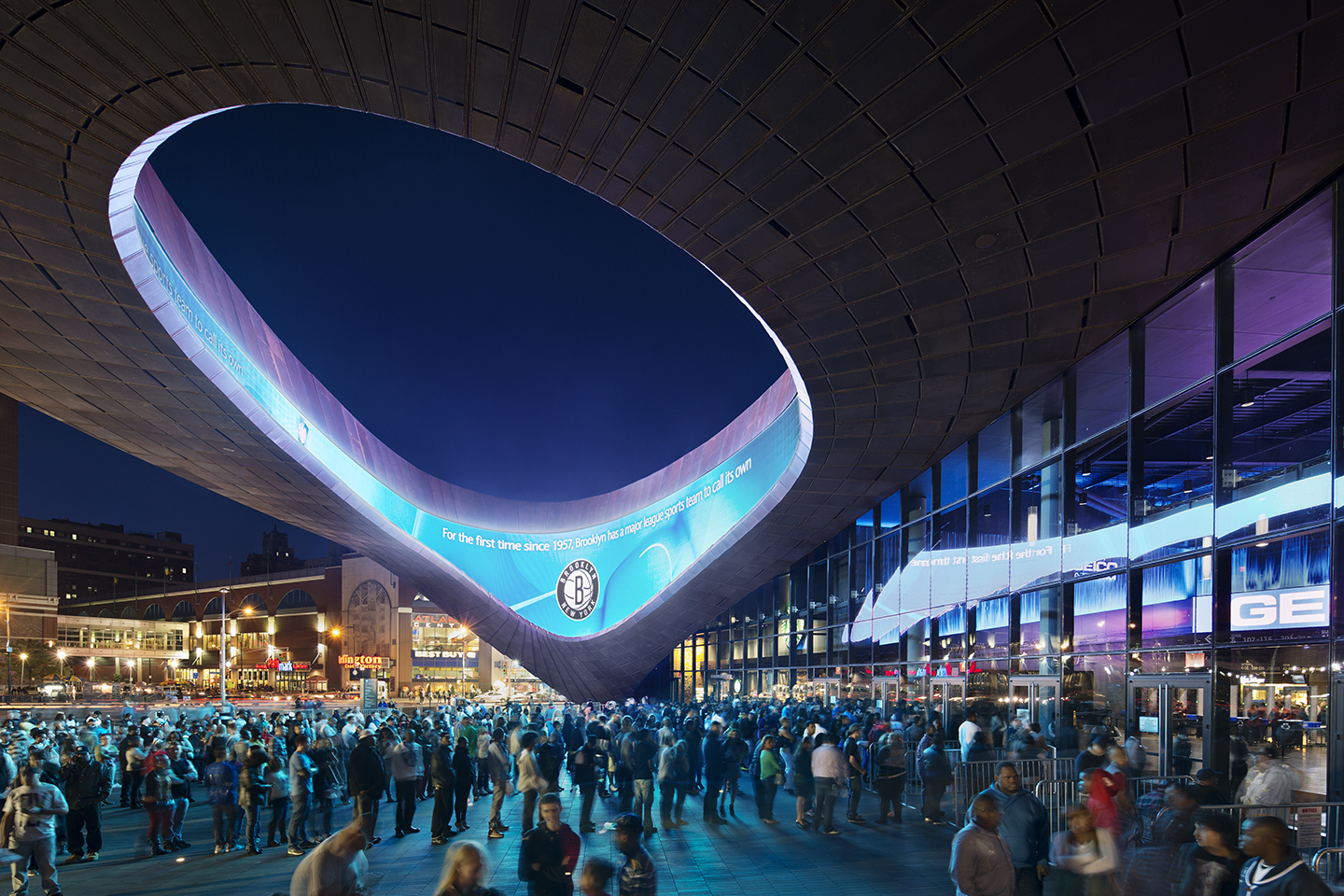 New York-based developer MAG Partners co-leads Diamond District project pitch team
An East Coast developer and a West Coast peer are teaming up to score Richmond's Diamond District project.
New York-based MAG Partners and Seattle-based MacFarlane Partners are leading one of six teams remaining in contention for the mixed-use redevelopment of city-owned land, which would include replacing The Diamond baseball stadium .
MAG is led by MaryAnne Gilmartin, whose development credits include the Barclays Center Brooklyn arena and the surrounding mixed-use development Pacific Park Brooklyn. Other projects include the New York Times headquarters building and the 76-story New York by Gehry skyscraper.
Gilmartin, who founded MAG in 2020, contributed to these efforts during his years as an executive at Forest City Ratner Cos., the last five as CEO. (Forest City worked on Barclays with David Carlock of Machete Group, a trading consultancy that runs a separate team of Diamond District competitors).
MacFarlane Partners – not to be confused with the Richmond-based company of the same name run by local developer Charles Macfarlane – is a 35-year-old company whose development work includes a 54-story hotel and condominium building in LA Live, a entertainment complex in downtown Los Angeles.
Led by Victor MacFarlane, the company is one of the largest black-owned development companies in the country, according to Gilmartin, who said he has collaborated on other projects.
Also on the team is Jair Lynch Real Estate Partners, a DC-based development firm that was one of 15 respondents to the Diamond District's initial RFI solicitation. Gilmartin said Jair Lynch joined their team in recent weeks after his RFI response failed to make the final cut. The company focuses on multi-family residential development.
Another recent addition is MSquared, a real estate development and investment company run by Alicia Glen, former deputy mayor of New York during the Bill de Blasio administration.
To complete the team, the architectural firms AtelierTek and Woods Bagot; engineering firm Kimley-Horn, which has an office in Richmond; sports venue developer CAA Icon, whose stadium-related work includes Chicago's 1060 project and guaranteed rate field; placemaking and workforce company C Space; and structural engineering firm Thornton Tomasetti.
Along with his team, Gilmartin said in an interview this week, "I would say we need to have among the most diverse group of talent in the mix for this RFP response, just because I know how it's hard to put a team like this together.
"We really like what the government has done in organizing this RFP. It's ambitious, it's got scale and as a result, we've built a team that goes far beyond just MAG Partners CVs and credentials," she said.
Gilmartin said his company identified Richmond as an emerging market it wanted to do business in when the Diamond District RFI appeared on its radar, leading to discussions with MacFarlane and Jair Lynch. She said Richmond's culture, food scene and changing demographics make it one of the nation's next hotspots.
"We still have a lot to learn, but what we know about Richmond excites us enormously. We think it's a city to watch, that's for sure," she said.
"Because my team was particularly involved in the renaissance of Brooklyn – we spent a lot of time helping to create a place in Brooklyn at a time when it really didn't have the halo effect it has today – we learned a lot along the way, and what we see in Richmond really matches what we do in our careers.
Although different in market and scale, Gilmartin said the 67-acre Diamond District project is similar to the 8-acre Pacific Park Brooklyn development anchored by the Barclays Center, home to the NBA's Brooklyn Nets and the New York Liberty of the WNBA.
"It was really the cornerstone to kick off the overall development at scale because it has a public purpose and delivers a ton to the community. We see the Richmond RFP in a very similar way," he said. she declared.
"It was a controversial project when it started. One of the reasons I think it's been widely accepted by the people of Brooklyn is that it's a very good neighbor, in terms of planning, building, operating. This was all due to the work we did for years and years.
Gilmartin said his team would take a similar approach for the Diamond District, bringing with it lessons learned from more than a decade of work on Barclays and Pacific Park Brooklyn.
"The only way to really know how to do it is to have done it," she said. "All of that experience will be put to use in Richmond. The public trust that underpins this commitment needs to be honoured, and that's something I think we are uniquely capable of doing.
The MAG team is one of six the City is considering for the next step in the process: a call for development proposals. After being selected from the top 15 RFI responders, teams were asked to provide additional information about themselves and how they would approach the project. The deadline for these details is this Monday, April 25.
An evaluation committee would then select a shortlist of finalists, who would be invited to submit proposals in early June. A final selection is expected later in the month.
As well as a new 10,000-capacity stadium to replace the 37-year-old Diamond, whose renovation was deemed unfeasible, the Diamond District project calls for a mix of development including offices, residences, retail outlets and a hotel, as well as upgrading infrastructure such as water, sewer and roads. The residential component would include rental and for-sale homes that would include units for low-income households.
While local efforts to position the site for redevelopment have seen their ups and downs for more than a decade, Gilmartin said the project's history gives his team confidence that this latest attempt will come to fruition – as is Major League Baseball's deadline for the Richmond Flying Squirrels to find a facility that meets new professional baseball standards by the start of the 2025 season.
"I have a joke that sometimes things have to die three times before they live," Gilmartin said. "Part of what I love about it is that the process has been very thoughtful, and because it has certain timelines built in, there's a certain commitment around this tender, due the needs of squirrels and some of the other requirements makes us pretty sure that something is going to happen here.
She added: "It feels good, it feels ready and it feels highly accredited by the government."
Declining to discuss his team's vision for the project in detail, Gilmartin said they had shared more with the city than just their qualifications and were open to potentially expanding or changing the roster. team according to the needs of the project. City administrators said the final selection for the project could be one or more developers or teams for all parts of the development.
"While I can't speak to specifics, I can tell you that this submission we're doing is much more than an introduction," Gilmartin said. "The level of work and the level of thought that is asked of us is significant, and in my mind, even though it is a ton of work, it also speaks to the legitimacy of the planning organizations, the seriousness of the government in actually doing something ."
Regarding the arguments over whether the project should be awarded to mostly local or external teams, Gilmartin added: "We should always think local, but there is a certain amount of ideas and excitement which may be from the opening of the afterlife team. right on the borders of Richmond and Virginia. It should be inclusive and should also have local programming.
"If our lineup isn't local enough, because we need to bring in more local expertise, we're completely open to that, and we've made that very clear," she said. "But I also think that having run a company that had 26 offices across the country, we can all learn from each other.
"Obviously Richmond is not Brooklyn," Gilmartin added, "but at the same time we think we can contribute in a very beneficial way to the process, and the ideas are probably going to be new. There's been a grassroots effort on this neighborhood for some time now, and I think there's a desire for new ideas and new thinking, but it shouldn't come at the expense of local expertise.
The other five remaining teams are:
• Diamond District Gateway Partnerscomprised of local real estate investment firm Capital Square, DC-based developers Dantes Partners and Hoffman & Associates, Maryland-based real estate firm The Velocity Cos., local architecture firm Baskervill, and construction firm Pendulum architecture, based in Missouri.
• Richmond Community Development Partnersled by Houston-based Machete Group and comprised of developers JMA Ventures and Sterling Project Development, construction company Gilbane, hotel management and consulting firm Retro Hospitality, architecture firm Hanbury, VHB engineering and planning nonprofit Storefront for Community Design.
• RVA Diamond Partnersunknown team members.
• Vision300 LLC Partners, includes local construction company Hourigan; Brookfield Asset Management; developers Greenstone Properties, KDC and Spy Rock Real Estate Group; non-profit housing Better Housing Coalition, construction company Canterbury Enterprises, Shamin Hotels, YMCA of Greater Richmond and New York-based sports club Sports United.
• Weller Development Co. and LMXDcomposed of Weller, a Baltimore-based developer, and LMXD, an affiliate of New York-based L+M Development Partners.