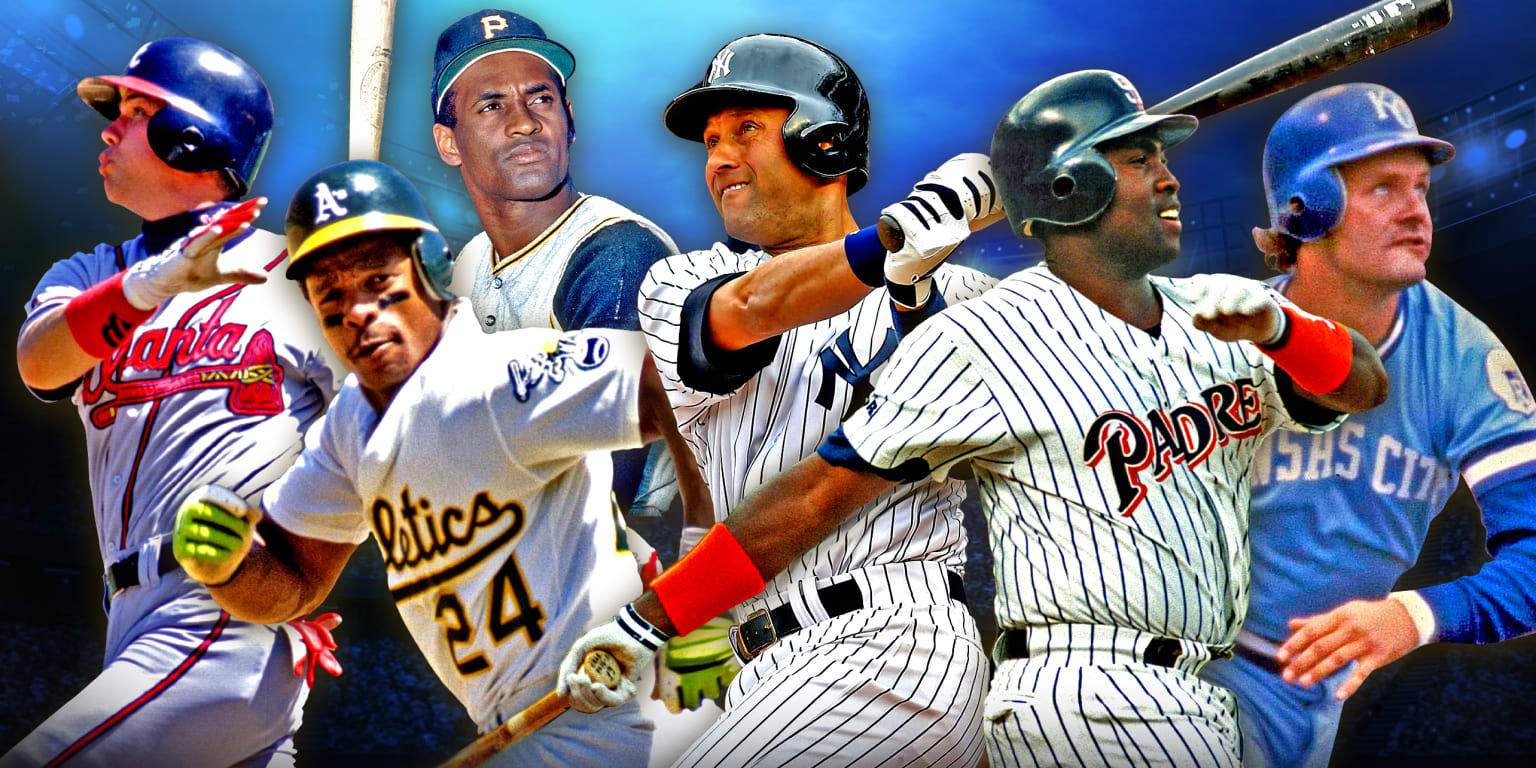 Most games played for each MLB team
There are some players who, when you think of a team, you can't help but think of this player carrying this uniform. There is something about putting on this uniform every day that stays on people's minds. You will always wear this uniform … even if one day you wear someone else's.
With that in mind, we take a look at which player from each team wore their team's jersey on more often: the player who has played the most games with each individual franchise. For franchises that have evolved over the years (think Dodgers and Giants), we've included Leader in Games Played at their current location, while also noting the overall leader in the franchise.
Blue Jays: Tony Fernandez, SS (1,450)
Runner-up: Carlos Delgado, 1B (1,423)
Fernandez has actually played for seven teams in his career, but 12 seasons of his 17-year career have come with the Jays; he is ahead of Delgado by 27 games. The Jays have several players on the roster right now, you might expect, they would love to see Fernandez pass one day.
Orioles: Cal Ripken Jr., SS / 3B (3,001)
Runner-up: Brooks Robinson (2,896)
The streak may have ended in 2,632 games, but Ripken actually played 3,001 games for the Orioles. Robinson is much closer to Cal than you might think otherwise.
Spokes: Evan Longoria, 3B (1435)
Runner-up: Carl Crawford (1235)
Longoria is the only active player on this list, even though he left town four years ago. Fred McGriff, delightfully, is 10th on this list with 577 games .. just ahead Desmond Jennings.
Red Sox: Carl Yastrzemski, OF (3,308)
Finalist: Dwight Evans, OF (2,505)
For a team with such a rich history as the Red Sox, it's shocking to see someone so far ahead of second place. Sure, Yaz is second on the all-time games played list behind Pete Rose, but Yaz has only played for one team.
Yankees: Derek Jeter, SS (2,747)
Finalist: Mickey Mantle, OF (2,401)
Lots of big names on this list, obviously, although Yogi Berra (2,116 as a player) surpasses Jeter if you count all the many matches he's worn the uniform long after his playing days are over.
Cleveland: Terry Turner, INF (1,619)
Runner-up: Nap Lajoie, 2B (1614)
A surprisingly unknown player for a team with such a long history, Turner played exclusively during the dead ball era and ended his career with eight homers. He made seven home runs until 1906, then hit one more in 4,958 home plate appearances from 1907 to 1919.
Royals: George Brett, 3B (2,707)
Runner-up: Frank White, 2B (2,324)
Brett played two full decades for the Royals, from his season at 20 to 40. Did you know he stole 201 bases in his career?
Tigers: Al Kaline, OF (2,834)
Finalist: Ty Cobb, OF (2,806)
Kaline is one of the most underrated players in baseball history … but certainly not by Tigers fans.
Twins: Harmon Killebrew, 1B / 3B / OF (1,939)
Runner-up: Joe Mauer, C / 1B (1,858)
Killebrew also played a few seasons for the Senators before the club moved to Minnesota, so if you count his franchise total, it's 2,329, and then there's a bunch of Senators that would be before Mauer. But if we only look at the Minny years, Mauer is # 2.
White Sox: Luke Appling, SS (2,422)
Runner-up: Paul Konerko, 1B (2,268)
Appling was the all-time leader of the games when he retired, earning his famous nickname "Old Aches and Pains". As for Konerko, it's easy to forget that he made his debut with the Dodgers and played part of two seasons in LA (and one in Cincinnati!) Before landing on the South Side.
Angels: Garret Anderson, OF (2,013)
Finalist: Tim Salmon, OF (1,672)
Anderson struggled with injuries at the end of his career, but his longevity is underestimated: he ended up with over 2,500 hits, after all.
A: Rickey Henderson, OF (1,704)
Finalist: Sal Bando, 3B (1,410)
We're only looking at the Oakland years here… if we count the time the franchise spent before moving to Oakland (including Kansas City and Philly), the answer is Bert Campaneris (1795).
Astros: Craig Biggio, 2B / C (2,850)
Runner-up: Jeff Bagwell, 1B (2,150)
It's probably fair to say that moving away from wide receiver status has helped extend Biggio's career a bit, right? There is probably no other franchise with a more obvious top two than this.
Navigators: Edgar Martinez, 3B / DH (2,055)
Finalist: Ichiro Suzuki, OF (1,861)
Ichiro didn't make his Seattle debut until he was 27, so he would be the clear leader here if he hadn't spent his formative years playing in Japan.
Rangers: Michael Young, SS / 2B (1,823)
Finalist: Elvis Andrus, SS (1652)
Young people came this nearly twice a World Series, but his 13 years at Arlington outlived everyone.
Braves: Chipper Jones, 3B (2,499)
Finalist: Dale Murphy, OF (1,926)
If you include all of the Braves' history, Hank Aaron (3,076 games with the franchise) is the runaway leader, but he has spent much of his career with the Milwaukee Braves and has played "only" 1,270 games at home. Atlanta.
Marlins: Luis Castillo, 2B (1,128)
Finalist: Jeff Conine, OF (1,014)
Like you, I thought the answer would be Conine. He was missing 114 games. Castillo actually leads the Marlins in games (breathe), batting, home plate appearances, runs, hits, trebles, stolen bases, steals caught and sack cavities.
Foods: Ed Kranepool, 1B (1853)
Runner-up: David Wright, 3B (1,585)
It's still Ed! Wright's injuries prevented him from catching it. But because Kranepool has spent so much time as a part-time player, Wright has a lot more home plate appearances with the Mets than Kranepool (6,872-5,997) … not to mention a lot more hits, homers. , product points, shopping and pretty much everything in between.
Nationals: Ryan Zimmerman, 3B / 1B (1,799)
Finalists: Bryce Harper and Ian Desmond (927)
We don't necessarily count Zimmerman as "active" because he could retire, but the Nationals' first-ever draft pick has represented the franchise honorably for nearly two decades.
Reminder: we are only looking at Washington years with the names above. If we include the Montreal years (before 2005), the top 10 is made up of all the players who accumulated their totals mainly with the Expos. We say "mainly" because of Jose Vidro (No.6 on the list), who played 1,186 games for the franchise, including 213 in Washington.
Phillies: Mike Schmidt, 3B (2,404)
Runner-up: Jimmy Rollins (2,090)
Believe it or not, Rollins actually had more batting appearances than Schmidt with the Phillies (8,628-8,352), which can be attributed to the fact that Rollins has almost always been at bat and walked much less often than Schmidt. .
Brewers: Robin Yount, SS / OF (2,856)
Finalist: Paul Molitor, 3B (1,856)
We will all be thinking of Yount whenever we see that specific hat logo, forever. I bet you didn't know he played exactly 1,000 more games in Milwaukee than Molitor.
Cardinals: Stan Musial, 1B / OF (3,026)
Finalist: Lou Brock, OF (2,289)
The man set the precedent and example for Cardinals baseball that the franchise tries to uphold even today.
Bears: Ernie Banks, SS / 1B (2,528)
Runner-up: Cap Anson, 1B (2,277)
Mr. Cub played for three different decades at Friendly Confines and, of course, never sniffed a World Series or playoff game. He's the all-time record holder in most games played without ever making the playoffs, and he's pretty sure such a sad record will stand the test of time.
Pirates: Roberto Clemente, OF and Honus Wagner, SS (2,433)
Runner-up: Willie Stargell, 1B (2360)
Clemente and Wagner having the exact same number of games played for the Pirates is one of the stats that gets you to do a quadruple take.
Reds: Pete Rose, 1B / 3B / OF (2,722)
Finalist: Dave Concepcion, SS (2,488)
Rose still tops this list despite spending time with the Expos and Phillies.
Defenders D: Luis Gonzalez, OF (1,194)
Finalist: Paul Goldschmidt (1092)
Gonzalez has played 1,194 games for the D-backs, but it's fair to say that he will be remembered for one – that draw in Game 7 of the 2001 World Series – mostly.
Dodgers: Bill Russell, SS (2,181)
Finalist: Willie Davis, OF (1952)
Russell isn't the guy you would have thought, is he? The shortstop / outfielder played 18 years at the Dodger Blue and competed in four different World Series. Of course, we're only looking at the LA years here. If you count the time the franchise spent in Brooklyn (before 1958), Zack Wheat (2,322 games) became No. 1.
Giants: Willie McCovey, 1B (2,256)
Finalist: Willie Mays, OF (2,095)
Totals above include only the San Francisco years. If we include Mays' seven seasons with the New York Giants (1951-57), he goes to No.1 with 2,857 games played with the franchise, and Mel Ott – who played exclusively for the New York Giants – would be No. 2 at 2730. McCovey's entire career with the Giants has been in San Francisco (he also spent time in Oakland and San Diego).
Chaplains: Tony Gwynn, OF (2,440)
Runner-up: Garry Templeton, SS (1,286)
It is a testament to Gwynn's longevity and identity with this club that he has almost twice as many games played as No.2 on this list.
Rockies: Todd Helton, 1B (2,247)
Runner-up: Charlie Blackmon, OF (1,269)
Helton's Hall of Fame affair still looks like a referendum on how voters treat Colorado and Coors Field. How many players will it take to leave the Rockies and keep hitting well (Matt Holliday and DJ LeMahieu, to name just two) for people to realize that great hitters like Helton aren't just Coors creations?