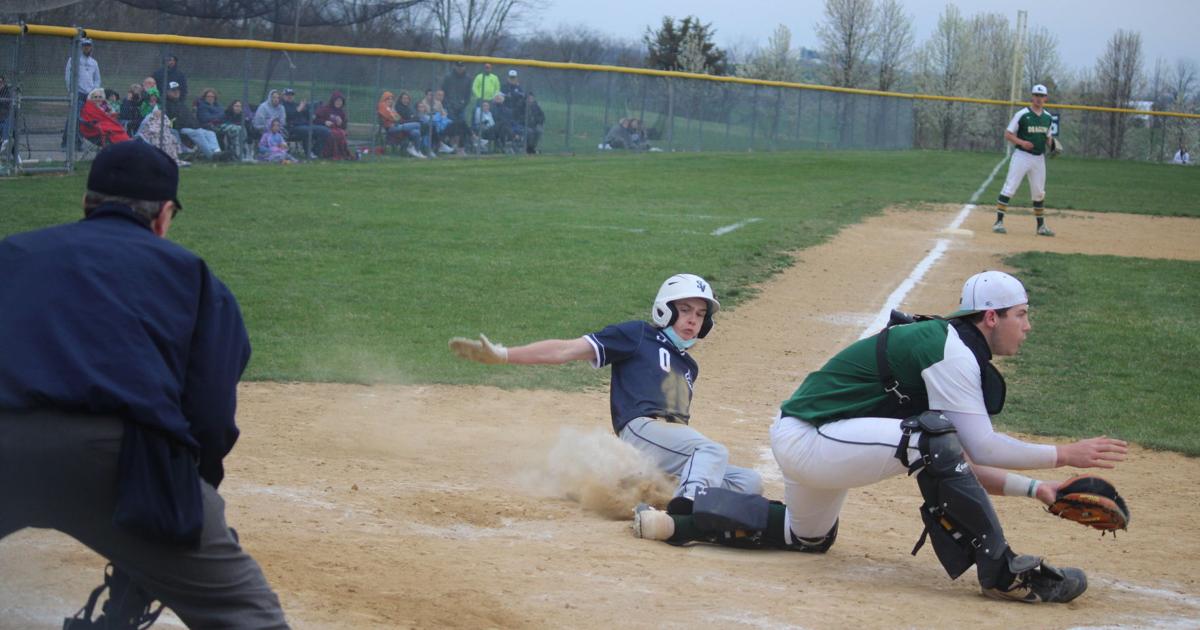 Mifflinburg baseball team looking to fight their way into HAC-I race | Local
MIFFLINBURG — Back bigger and stronger, the Mifflinburg baseball team is ready to right the wrongs of last season as they prepare to face the best of Heartland-I in 2022.
The Wildcats entered the 2021 campaign with high hopes, but the season proved disappointing as the team finished with just six wins — just four in conference.
Mifflinburg coach Tom Church hopes this year's team will bounce back.
"I don't know. I hope we do. We have a lot of kids coming back. They were young last year, and with only three seniors in the team this year, I hope the (classes superiors) will lead and all juniors and underclasses will follow," Church said.
"We'll take it one game at a time and see if we make a district playoff, but we'll see. It depends on how we play. It's a tough league and we'll see where it takes us.
Losing is a big motivator, and Church's charge has been hitting the weights for months in order to prepare for this year.
"I guess that motivated them. All of these kids have been in the weight room since last year and have gotten bigger and stronger, and they've become more mature and more willing to lead by example," the Mifflinburg coach said. "I think what they learned from last year — that they got knocked down and they were successful and they almost made the playoffs — will help them."
The end result should be a different brand of baseball than the team has played in recent years.
"I just think we'll play stronger baseball and have stronger (throwing) arms. They hit well – being able to hit the ball harder and not have the same type of bat recoil. Last year was a learning experience, with most only having sophomores and a few seniors on the team," Church said.
"I hope this group has learned from last year, and I can already see it. We're just hoping for a great season," added Church.
Senior Liam Church, along with juniors Lukas Whittaker, Zeb Hufnagle and Tanner Zimmerman, and second Troy Dressler, will be called upon to help the team bounce back.
Whittaker is the team's leading return hitter (.326 average, 14 hits, 8 RBIs, 4 doubles, 1 HR), and he's followed by Dressler (.273, 15 hits, 9 runs, 10 RBIs, 4 doubles).
Wertman (.271, 16 hits, 10 runs, 9 RBI, 1 double, 2 triples, 1 HR) and Church (.269, 14 hits, 10 runs, 6 RBI and 2 doubles).
"I think Liam, Troy, Lukas, Zach and Zeb, all those kids who played last year with Tanner and Andrew Diehl, we're going to rely on them," Church said. "Everyone who played as juniors and sophomores last year knows what they want and is a little hungrier (this year) and wants to go out there and get it.
"As coaches, we like what we see," Church added.
Dressler and Hufnagle are also Mifflinburg's top two pitchers, but the Wildcats have a number of players who are ready to step on the mound this season.
"We have a whole bunch of kids who can throw, including Liam and Tanner, Lukas, (Luke) Rokavec, Jarrett Miller, Derek Hackenberg and Diehl. They all throw. All these kids are trying (their best) and they're pushing (to be in the lineup)," Coach Church said.
The keys to the season are throwing and defending, while the moment's weakness is striking.
"I think we're going to hit. The guys are more disciplined than they were in sophomore and freshman," Church said. "I think the kids have learned from their experiences over the past year and they've picked up their pieces. I think they'll be fine, and I think this (challenge) will be good. The kids step up and hit the ball, and I hope that continues, and we continue to improve throughout the season.
But a tough HAC-I schedule awaits with powerhouses such as Selinsgrove, Danville, Montoursville and Jersey Shore.
"It's a tough schedule. You don't have easy matches in this league. We have to be ready to play because these other teams will come and get you," Church said. "We have a good group of kids who want to win, and they will win as long as we do the things that we ultimately need to do.
The 2022 season will be dedicated to the memory of former assistant coach Tod "Cleever" Steese, who passed away suddenly in December.
In Mifflinburg's home opener against Selinsgrove on April 1, Steese's grandchildren will all throw the first ball in memory of their grandfather, who will be sorely missed by everyone on the team.
"The kids miss him a lot. He was a great guy and the kids loved him and they missed him. They're at his grave talking to him all the time," Church said. It might be an emotional time for them, but we want to show Todd "Cleever" Steese something."
Mifflinburg Wildcats Coach:
Tom Church, 29th season.
Jerry Lloyd, Cory Dorman, Jake Golomboski, Steve Hackenberg and Brady Lloyd.
6-14, 4-12 HAC-I.
Cade Dressler, Allen Stamm, Gavin Martin and Colin Miller.
Liam Church, Sr., INF/P; Tanner Zimmerman, Jr. OF/P; Lukas Whittaker, Jr., C/P; Zach Wertman, Jr., INF/P; Andrew Diehl, Jr., OF/P; Luke Rokavec, Jr., 1B/P; Troy Dressler, N/A, INF/P; Zeb Hufnagle, N/A, INF/P.
Remaining list: Eli Troutman, sr., OF; Gabe Stetler, Sr., INF; Ethan Shoemaker, Jr., DE; Gage Ritter, Jr., DE; Jarrett Miller, Jr., OF/P; Lucas Kurtz, Jr., 1B/P; Derek Hackenberg, Jr., INF/P; House Irvin, jr., 1B; Zac Kerstetter, Jr., INF/P; Nathaniel Chambers, so., DE; Lane Hook, So., INF/P; Cyruss Scholvin, N/A, OF/P; Ian Stoltzfus, Fr., INF/OF; Hunter Resseguie, Fr., OF; Brian Reeder, Fr., OF; Nick Lloyd, C/1B; Aaron Bolick, Fr., INF/P.