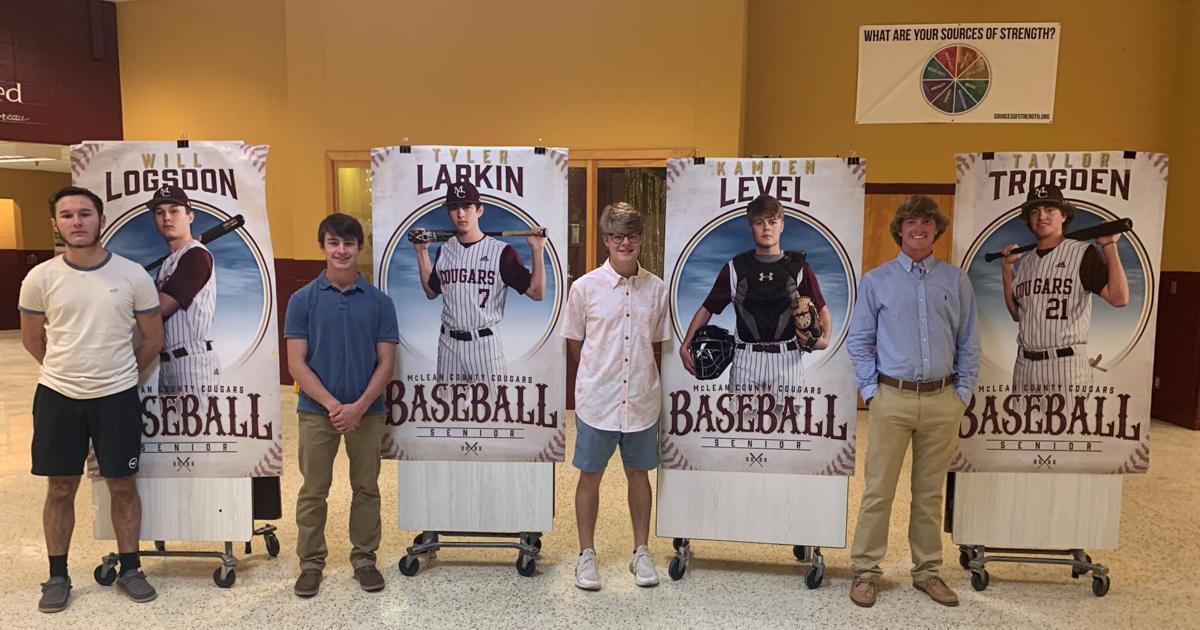 MCHS Baseball Team Celebrates Season with Banquet | Mclean County
The McLean County High School baseball team celebrated the 2022 season with a high school banquet on July 18. The players and coaching staff enjoyed a meal with their families before reflecting on the season with several awards given out.
The following players received their first varsity letter for the team: Hayden Hudson, Zane Decker, Landon French, Layden Bozarth, Corbin Martin and Jaelin Groves.
Returning players who received a subsequent varsity letter were: Tyler Larkin, Cruz Lee, Kamden Level, Will Logsdon, Connor Mitchuson, Ayden Rice, Jax Lee, Whit Searcy, Taylor Trogden, Mason Lovell and HB Whitaker.
Prizes were awarded in the following categories:
Batting average – HB Whitaker (.370)
Success – Tyler Larkin (30)
Races – Tyler Larkin (23), Connor Mitchuson (23), Will Logsdon (23)
RBI – HB Whitaker (28)
Doubles—Cruz Lee (9)
Triplets — Tyler Larkin (3)
Home runs – Will Logsdon (1) and Tyler Larkin (1)
OPS (on base percentage + slugging percentage) – Will Logsdon (.971)
Stolen Bases – Cruz Lee (19)
Innings pitched – Ayden Rice (37.2)
ERA – Jax Lee (3.44)
Strikeouts (pitchers) – Ayden Rice (35)
Wins — Ayden Rice (4)
Rookie of the Year – Hayden Hudson, Jax Lee and Mason Lovell
Relief Pitcher of the Year – Taylor Trogden
Iron Horse Award – Kamden Level
Golden Glove Award – Tyler Larkin
Cy Young Award (Top Pitcher) – Ayden Rice
Silver Slugger Award (Best Hitter) – Will Logsdon and Tyler Larkin.
Connor Mitchuson received the Most Improved Player / Jose Oquendo award for his versatility. Mitchuson has played all nine positions this season.
Tyler Larkin was awarded the title of team MVP based on player votes. Larkin was the team's only four-year-old starter and would have been a five-year-old had the 2020 season not been canceled due to COVID-19.
Larkin led the team in four hitting categories (hits, runs, triples, homers), finished in the top four in nearly every other category, and won the Gold Glove Award for his play in center field for the second consecutive year.
"Tyler was an outstanding leader for the team and really left his mark on this program," said head coach Heath Hicks. "All the success he's had throughout his time here, including this Team MVP award, couldn't be more well deserved."
The junior varsity team presented the following awards:
Cy Young Award – Corbin Martin (8th)
MVP Award – Layden Bozarth (8th)
The freshman team awards were as follows:
Cy Young Award – Jordan Bailey (7th)
MVP Award – Jaelin Groves (8th).
Hicks said his elders – Tyler Larkin, Kamden Level, Will Logsdon and Taylor Trogden – led by example and never allowed the team to lose focus.
"These guys did it the right way," Hicks said. "I'm extremely proud of each of them and can't wait to see where the future takes them."
As for returning players, Hicks said the groundwork has been laid at all levels for this program to take off. "These guys have experience now," he said. "This program now has depth and I truly believe the future of baseball is bright here."
This was Hicks' final season with McLean County baseball, at least for the foreseeable future. He said he couldn't have asked for a better group of young men to spend it with.
"These guys worked hard, played hard, rarely complained, really became family and I'm proud to have coached them," he said. "Although we didn't get where we wanted to end the season, we improved tremendously from last year and were a much better ball team than our record indicated. McLean County is on the rise.
Hicks has a long history with the baseball program. He played six years on the team, five of which were at the university level. As a player, Hicks made the All-District team twice and helped win three district championships. He was named All-Star East/West by the Kentucky High School Baseball Coaches Association in 2005 and holds the school record for most bachelors in a season with 29 set in 2006. He was also selected as a member of McLean County High School 50th Anniversary Baseball Team this year.
Hicks served as an assistant coach for five years with Marc Searcy before accepting the head coaching job in 2015. He coached three players who were selected as East/West All-Stars and has 11 players who received offers scholarships. He also served on the Johnny Bench Award committee to help select the state's top receiver.
"He helped me find and keep my love for baseball and did everything you'd expect from a coach, and more," Senior Kamden Level said. "He treated us like his own children."
"He was a great coach, but an even better role model," said Senior Tyler Larkin. "I learned a lot more than baseball with him."
Senior Will Logsdon also shared his gratitude for all Coach Hicks has done for the program as well as the personal development of his players.
"It's sad to see him go, but God has a plan for everyone," Logsdon said. "Wherever he ends up, he will also do great things there."
After serving seven years as head coach and a total of 18 years with the team, Hicks stepped down at the end of that season. He has been part of the baseball family longer than any other individual in the history of the program and will be sadly missed by players, coaches and the entire baseball community.
"I've been in this baseball program as a player and a coach for over half my life and it's going to be weird not being in this dugout next spring," Hicks said. "I will always treasure my time here, and I will never stop following, supporting and loving McLean County baseball."