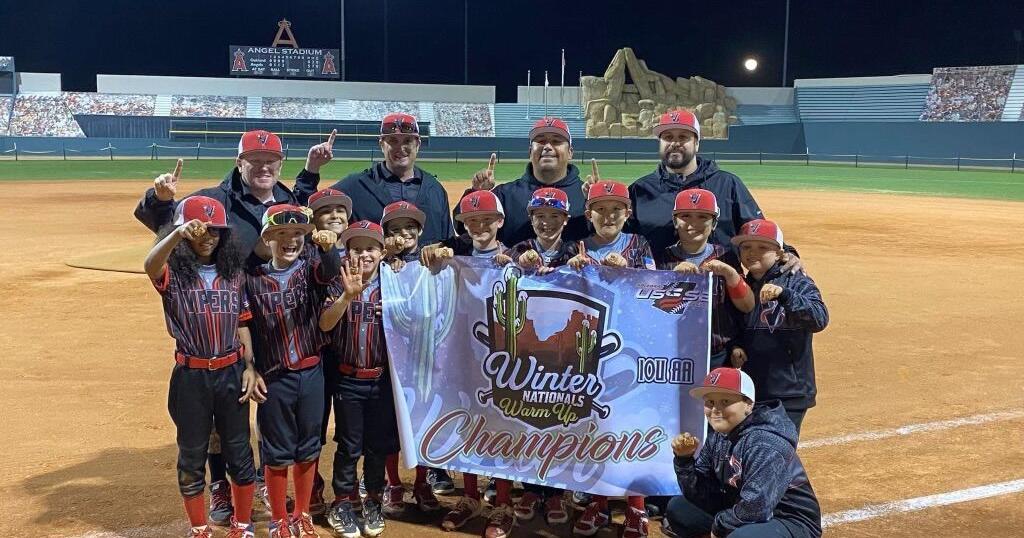 Local youth travel ball team wins tournament in Gilbert | Local sports news
The Lake Havasu Vipers 10-and-under baseball team won a championship after winning a tournament at Cactus Yards in Gilbert.
In the Championship game, the Vipers beat Glendale, ATB, 12-2. The Vipers had 13 hits and the battery of pitcher Daniel Phelps and receiver Nash Taylor kept the ATB runners under wraps.
All of the Vipers' kids are locals and the majority of them were on 8-10 All-Star Lake Havasu Little League teams last summer.
"These boys fought really hard to get to where they are at," said coach Justin Janecek. "They showed up, the throw was amazing, the bats were alive and the boys came together and won as a team."
The Vipers went 4-0 and pity reigned over all four opponents in the AA Division's gold bracket throughout the two-day tournament, which ran from Dec. 18-19. The Vipers started the group game with an 11-3 victory over the Tucson-area Rebels 10U Black.
David Meraz and Mason Passmore each pitched two innings and threw four combined strikeouts while allowing three combined runs and no walks against the Rebels. Shortstop Aiden Vendito had a strong day with the glove as Ashton Carelli and Bentley Taylor each had two hits.
The Vipers continued with a 17-2 victory over the Scottsdale Dinger team. The Vipers had a solid game in the batter's box with six walks and seven hits. Daniel Phelps, Jax Janecek and Luke Pakes were present on the base paths, each stealing four bases.
AJ Villa got the big shot of the game, hitting a fort on the fence and scoring all the bases for a home run inside the park. After putting on a great game from the shortstop, Vendito started the game and threw a gem.
After two dominant performances on day one, the Vipers secured a first-round pass on day two, putting them straight into the semi-finals. The Vipers faced the Goodyear Dust Devils and won 9-1 behind a Carelli hitting game. The only run for the Dust Devils is a walk and a mistake by the Vipers.
Nash Taylor and Vendito each scored twice while Vance Hardin hit a home run to right field for the seal run of the game.
"This tournament came as no surprise to me," said coach Scottie Taylor. "This is the team we saw in training finally put everything in place on the pitch and play to their potential."
After their 4-0 tournament streak, the Vipers are ranked second in Arizona State in Division AA of the United States Specialty Sports Association (USSSA). The USSSA is one of the largest sanctioning bodies in amateur youth baseball. Teams in USSSA tournaments earn points and are ranked against each other in their state and against other teams nationwide.