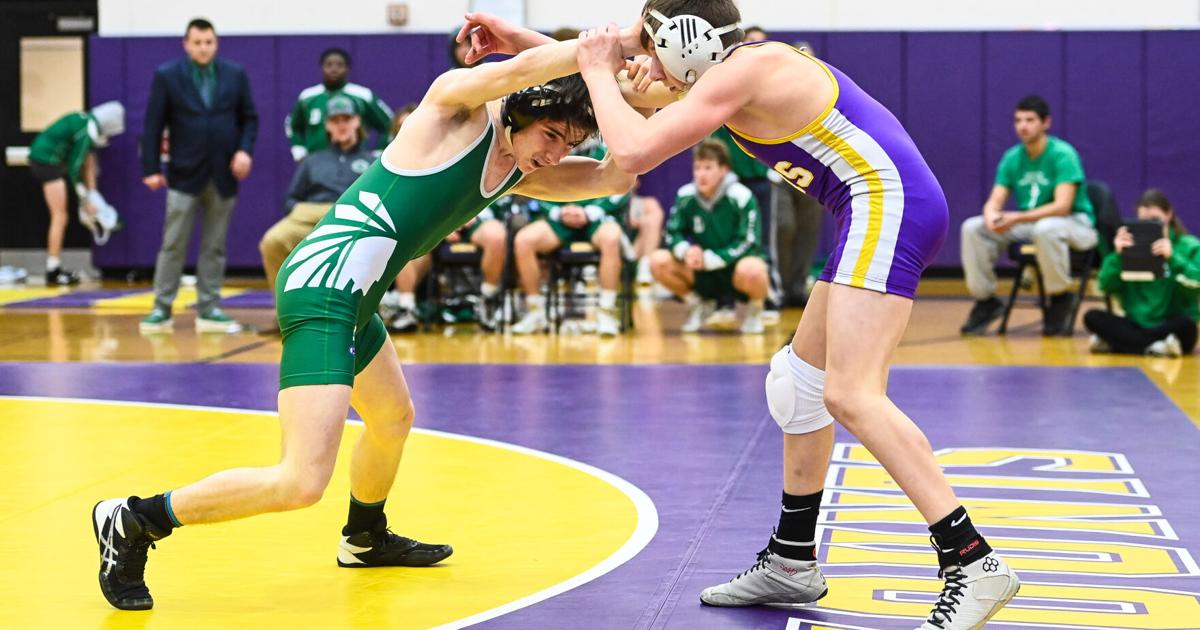 LL League Wrestling: Donegal wins 7 of 13 games to beat Ephrata | Wrestling in high school
Donegal coach Nick Evans called it a team effort. Ephrata's coach Sean Lees didn't disagree.
Up and down the roster, the Indians did whatever was necessary to secure a victory, 37-28 over the host Mountaineers on Tuesday night in a key Lancaster-Lebanon League Section Two fight.
The Tribe have won seven of 13 games – two by forfeit – to move up to 3-0 in the league, 3-0 overall, scoring bonus points in four of five wins on the mat.
"We won the ones we needed to win," said Evans.
The steadily improving Mounts (1-2, 3-5) matched that, scoring a bonus in four of their six wins, but couldn't make up for forfeits.
"We're in games now," said Lees, "but unfortunately we still lose because of forfeits. It's not five or six forfeits, but tonight was two too many.
The tone of the evening, a night that saw seven changes ahead and two draws, was set in the opening game at 120 as Tribe's Mark Overlander (3-5) and Brady Thomas (43) of the Mountaineers tied point for point in a fight it was 2-2 after one period, 5-5 after two and 7-7 at the end of regulation time, although Overlander's winning try broke down in the buzzer.
An enigma then spread to OT as Overlander was unable to complete withdrawals, twice, at the edge. Thomas kicked off a sudden victory, hitting a header with eight seconds remaining, scoring five points for a 12-7 win.
Jordell Jonas of the Indians, who is making his debut in the season, and Tristan Mellinger of Ephrata (6-2) traded falls at 126 and 132. Landen Baughman (6-5) got a major decision for Donegal at 138, while Tanner McCracken (6-1) missed a few opportunities to improve pinning combination setups, settling for a 4-2 win over Ruben Mumper (8-9).
Austin Brass (80) of Ephrata and AJ Small (8-7) of Donegal traded falls to 152 and 160 before Tribe's Scott Garcia entered the win column, forfeiting 172 to give Donegal a 22-18 lead.
"Even if we had had our '72 pounds tonight, it could have been the same story, "Lees said. "It's a '60 pound, and it's one of those things."
The lead was shortlived as it turned out that James Ellis (8-0) edged Silas Mumper (7-9), 16-2 to 189, narrowly missing the tech drop with eight seconds left. when withdrawing by bear hug. carried the wrestlers out of bounds.
Deric Hoover (4-3) trailed Owen Champ (11-6) 6-0 at the start of the third period before
closing at 6-3 on a snap-and-spin takedown. Improving an armband, he brought down Champ with 28 seconds left, bringing the Mounts to life and a 28-22 lead.
A fall to 285 by Nicholai Brotzman (14-3) brought the Indians back to a tie and Nate Rothstein – new to the lineup after joining the team in mid-December – pushed the Mounts to the brink with a victory by package at 106.
It was up to Noah Hinkle (123), the tribe's most accomplished wrestler, to conclude, which he did with a 5-0 victory over Noah Tlumach (4-4) at 113.
"We needed a little more than a few kids," Lees said. "We needed a few scraps and we didn't get them."
"(We) keep grinding it up and gutting it," Evans said, "one game at a time."