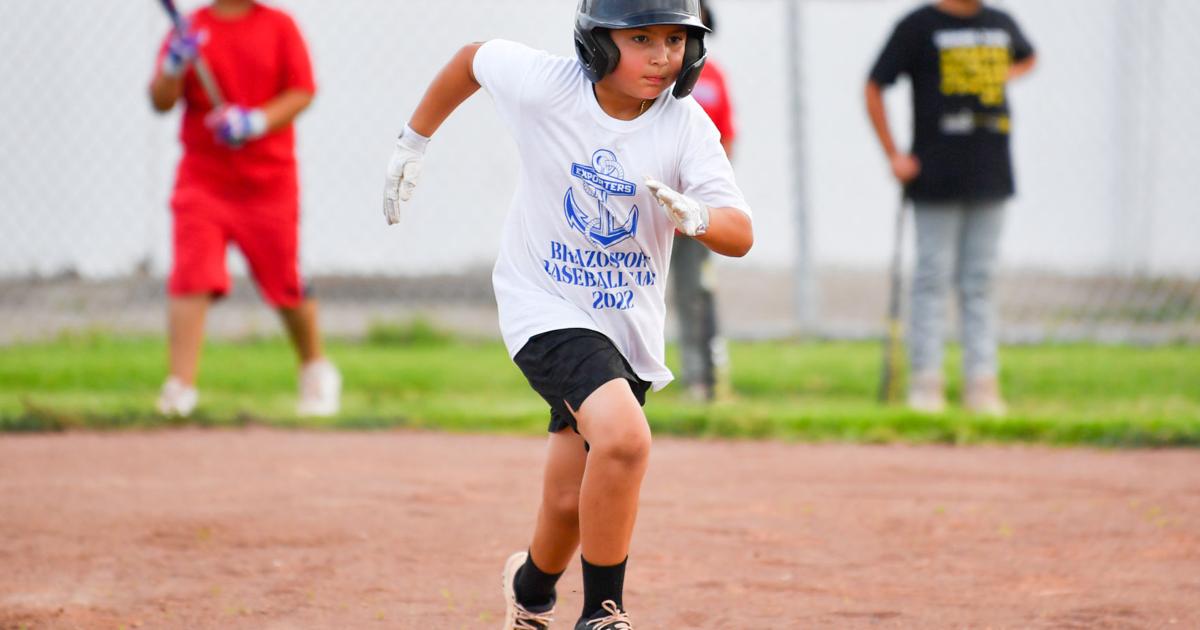 Little League teams open tournament | Sports
Eighteen All-Star Little League teams will take to the courts for the tournament, some of which start today.
Districts 18 and 36 represent the 10U, 11U, 12U and Senior teams from South Brazoria County in a double elimination format.
Local 10U teams in action at the Bay City Little League grounds include Freeport, Sweeny and West Columbia.
Games start at 6 p.m. today between Freeport and West Columbia, followed by Sweeny and Tidehaven. Palacios will face the winner of Freeport or Columbia, and Bay City will face Tidehaven or Sweeny on Saturday.
Manager Juan Isais represents the Freeport All-Stars, and the team consists of Ian Espinosa, Juan Isais, Jordan Cardenas, Maximus Lopez, Ivan Isais Jr., Noel Nieto, Kaedence Quince, Osiel Sanchez, Rylan Jackson, Luis Escamilla, Ethan Eudy and Christopher Franklin. The assistants are José Cardenas and Saul Espinosa.
Sweeny is led by manager Jason Baca and his players, William Gutierrez, Landen Harrison, Royce Baldry, Roy Blackwell, Lazarus Velarde, Kian Weston, Sammy Warncke, Brenner Baca, Dustin Hickman, Jaxon Baird, Eli Farley and Chancely Clifton. Assistants are Jeff Farley and Matt Warncke.
The championship round of this tournament begins on Wednesday.
Two teams are vying for the district championship as Sweeny takes on tournament hosts El Campo on June 24. The finals will take place on June 26.
Sweeny will host the tournament today with the championship round taking place on Wednesday.
The tournament opener between Freeport and East Bernard is at 6 p.m., followed by Boling against West Columbia.
The winners will advance to a game at 6 p.m. Saturday against Brazos, followed by home team Sweeny.
There will be two playoff round games at 6 p.m. and 8 p.m. Sunday.
Freeport is coached by Bobby Dawson. His players include Klayton Dawson, Tripp Retzloff, Julian Arredondo, Naomi Matthews, Wyatt Nugent, Braedyn Valenzuela, Parker Pinckard, Logan Padron, Aarian Elicerio, Romeo Alvera, JD Castillo, Blaine Conner and Jaxon Mauer. The assistant coaches are BL Goerge and Trey Goerge.
JD Hurt manages Sweeny, with Payton Meador, Declan Weston, Beau Higgins, Houston Howell, Colton Newsom, Jack Genella, Devin Fields, Caiden Mitchell, Kavion Woodard, Kolten Hurt, Luke Nail, Koen Davis and Hunter McKnight on the roster. Assistants are Charlie Genella and Patrick Whittenburg.
Sweeny will host the two-team draw against Palacios on Wednesday. The championship round could start the next day or June 24.
The district is between three locations for 10U, 11U and 12U tournaments.
Starting with 10U today at George Park in Richmond, Zone 1 is played on the No. 2 ground between Angleton and Brazoria.
Danbury vs. Sugar Land will follow.
The losers of those two games will play at 6 p.m. Saturday in an elimination contest followed by the winner of Angleton/Brazoria taking on Lamar Red.
Bubba Meador is in his first Little League head coaching job for the Danbury All-Stars.
"We have a group of rock stars. We have brave boys who are just hard workers," Meador said. "They're very respectful, and at the start of a season you never know what they're going to get, but I tell you what, every single one of these young men is amazing."
The team includes Colten Krenek, Hunter Sample, Reed Corbell, Teague Meador, Ty Cook, Braxton Baldrige, Carter Casper, Colt Harrell, Gunner Brown, Brantley Greaves, Austin Roberts, Bentley Pohl and Colter Eastland. The assistant coaches are Curt Rusnak and Jerry Krenek.
"We work hard to drill them with grounding drills and put them in different positions with the zig-zag drill where we work a lot on pop-flys," Bubba Meador said. "The first hour or so is just getting the basics in their head."
The Championship round begins on Tuesday.
In a Zone 2 match at 6 p.m. today at Ground No. 4 in George Park, Alvin will face Rosenberg, followed by Brazoswood against Needville. The losers will face off in an elimination contest on Saturday, followed by the winner of Alvin/Rosenberg vs. Lamar Blue.
The championship round begins on Tuesday.
The 11U tournament begins today at Alvin Little League Field. Brazoswood opens against Lamar at 6 p.m., followed by Angleton and Needville.
The losers will play at 6 p.m. Saturday in an elimination contest followed by Alvin against the Brazoswood/Lamar winner.
The championship round begins on Tuesday.
Rosenberg National will host at the Seabourne Creek Regional Sports Complex off Highway 59. The first games are at 7 p.m. today with Angleton taking on Brazoria on the No. 3 field. Alvin and Lamar will play on the No. 4 field.
The seven-team group continues on Saturday with Brazoswood and Danbury tangling at 7 p.m. and the winner of Angleton/Brazoria taking on Rosenberg on the No 4 ground.
"I think we have a pretty good team that likes to play together, and they've been together for a while," Danbury manager Sonny Vrazel said. "He's a young 12U with only about four or five 12-year-olds, and the rest are all 11-year-olds. But we play together, and I've never been in a group that loves baseball like this. It makes loving the game of baseball a little more.
His team includes Maverick Calloway, Gage Peltier, Brantley Kennedy, Dane Sodek, Matthew Feazell, Evan Catoe, Case Kroschel, Anderson Peltier, Lincoln Wollam, Xander Pohl, Ryan Vrazel and Brayden Reaves. The assistants are David Catoe and Jake Reaves.
"We played a few scrimmages, but we came together to make sure they were a team," Sonny Vrazel said. "We're hoping to put together a few hits and watch our pitching go and watch our pitching take over. They are nervous about the game, but everyone knows how difficult it is to play there.
The championship round begins Thursday.
Sweeny hosts the best-of-three tournament against Palacios from Wednesday.