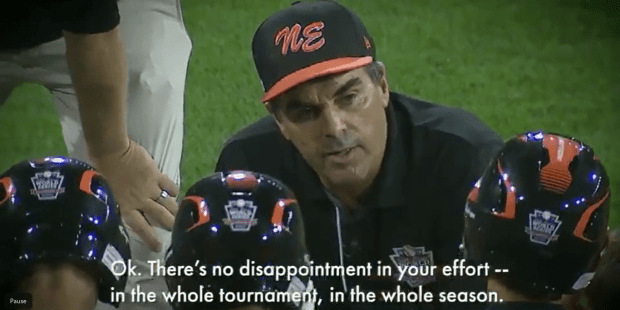 Little League coach's post-game speech is a must-see for everyone
Coach Dave Belisle certainly knows how to motivate, encourage and bring perspective to a special group of little leaguers.
Any parent with a child who competes in sports will know how hard it is when their child loses an important game or sporting event. Often children feel discouraged, angry and frustrated by their loss. So we can only imagine how much these feelings are amplified when it's a world championship that is lost.
A video has emerged of Dave Belisle, the Cumberland Americans manager, giving a post-game pep talk to his team of sad Little Leaguers. We won't spoil the talk for you, because the 3-minute clip is definitely worth watching, but Belisle certainly ended his coaching career with a bang.
In the speech, which you can see below, Belisle had nothing but praise for the youngsters and reminded them of the pride they should feel in their accomplishments. And while tears rolled down the cheeks of some of the players, Belisle also stressed that this was the last game he would coach and that he would be "friends forever" with the team.
The speech was well received by all who watched it. One person commented on Little League Facebook Page"I don't know who this coach is, but as a former coach of multiple sports in high school, he's the kind of coach our kids need, that was one of the most phenomenal speeches I've ever had. I never heard in my whole life."
While another comment simply said: "That coach right there is a man builder!"
For any parent who needs inspiration to help their child overcome, this video can help them see that there is still beauty to be lost. And in fact, the message is quite relevant for adults too, when they have to face defeat with grace.