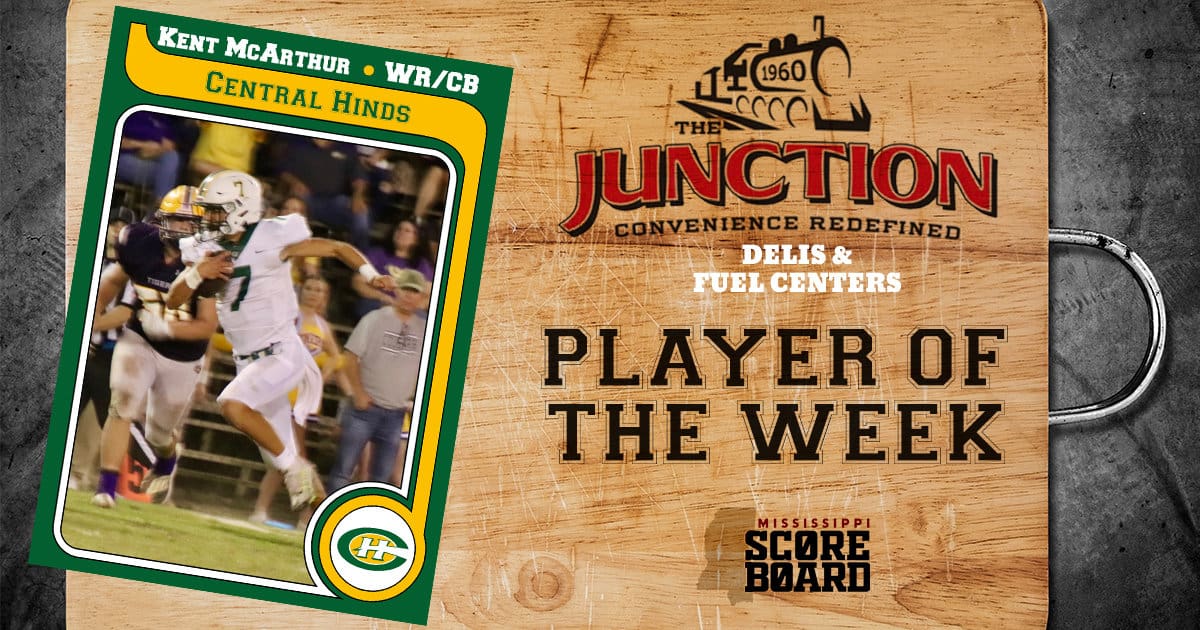 Junction Deli Metro Jackson Player of the Week
By Robert Wilson
Centerville Academy coach Bill Hurst is the most successful football coach in Mississippi history and has served as head coach since 1975.
But Hurst has probably never seen an opposing player do what Central Hinds Academy senior Kent McArthur did on Friday night.
The 5-foot-10, 165-pound McArthur intercepted three passes — returning two for touchdowns — and caught a touchdown pass to lead Central Hinds to a 37-6 victory over Centerville at Central Hinds in Raymond.
McArthur had interception returns of 100 and 65 yards for touchdowns, caught an 8-yard TD pass, made four tackles, threw an extra run attempt, and returned a punt for 12 yards.
For his outstanding performance, McArthur was named Junction Deli Metro Jackson Football Player of the Week.
McArthur made a diving interception at the Centerville 45 in the first quarter, then caught the TD pass to end that drive. He got his second interception and returned it 65 yards for a score in the second quarter. McArthur completed his third pass and returned it for 100 yards in the third quarter. In addition to making four tackles and returning a punt for 12 yards, McArthur was called upon to throw an extra run attempt and did so.
"He helped us early in the game with his diving interception and then finished it off with a nice touchdown take," Central Hinds coach Lance Teasley said. "He made a great play and return for his 65-yard interception return and broke a lot of tackles to score. And he made another great play with his 100-yard interception return. We normally go for two, but we wanted to try an extra point, so someone suggested Kent and he went over there and cashed it in on the straight post. It was quite an evening for Kent. He is a super athlete and a good boy who worked hard. It was great to see him have a special night.
McArthur starts at wide receiver and cornerback and returns kickoffs and punts. He has 18 tackles, 3 for loss, 3 interceptions (two for touchdowns), 4 pass breakups, passed for a touchdown, caught a touchdown pass and threw an extra run for 4-2 Central Hinds this season.
McArthur didn't play football as a freshman or sophomore, but came out last year as a junior and started as a wide receiver and cornerback. He finished the season with three interceptions and helped Central Hinds to an 8-3 record.
He also plays baseball, basketball, soccer and runs at Central Hinds.
Central Hinds host the Academy of Oak Forest, Louisiana in a MAIS Class 5A, District 3 game Friday night at Raymond.