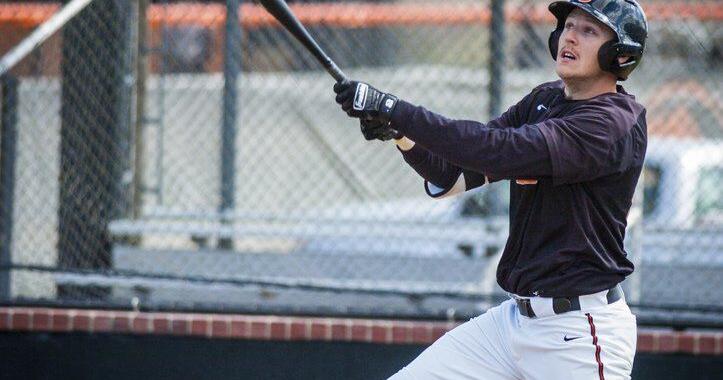 East Central baseball team snaps on long losing skid | local sports
This one took a while to come.
The East Central University baseball team snapped a long and grueling 26-game losing streak with an eight-inning 7-6 win over Southwestern in Game 2 of a Great American Conference doubleheader Saturday at Tiger Field.
ECU was coming off a heartbreaker loss to the Bulldogs in Game 1 by a 5-3 count in 11 innings.
East Central improved to 2-29 overall and 1-20 in GAC play, while Southwestern left Town at 15-17 and 10-11 after the split on Saturday.
It looked like more agony was headed for the Tigers when Southwestern scored a mistakenly assisted two-out run in the top of the eighth inning to take a 6-5 lead. This was the contest's only ECU error.
Zac Green led half of the Tigers' eighth with a base hit. The Tigers had runners at first and second when Gage Boatman hit in a defenseman's pick and Green was safe at second on a SWOSU error.
Britton Sperry got the runners ahead with a sacrificial bunt to the pitcher and Mekhi Edwards was intentionally walked to load the bases. Byng High School product Trae Lowe was then inserted into the game as a pinch runner for Boatman.
Mason Glowacki tied the game with an RBI single to right field and Colton Schaper-Kotter followed with a hit to left field that brought Lowe home with the winning run.
Tanner Collins led a 13-hit ECU barrage, going 3-for-4 with a double, an RBI and a run scored. Glowacki went 3-for-5 with an RBI and a run scored, while Shaper-Kotter went 2-for-5 with an RBI and a run scored.
Nick Blankensh and Christian Whitaker both hit doubles for the Tigers.
Alex Rice led Southwestern's seven-hit offense, going 3-for-4 with four RBIs.
East Central reliever Justin Chitty threw just one pitch in the top of the eighth — he forced Miguel Soto to foul first base for the third out — to steal the mound victory from the Tigers.
The Tigers were at Rogers State on Tuesday and travel to Bethany this weekend for a GAC ​​doubleheader with Southern Nazarene. The two teams will play a single game at 2 p.m. Friday and a double game at 1 p.m. Saturday.
ECU will return to Tiger Field on April 12 when Northwestern visits.