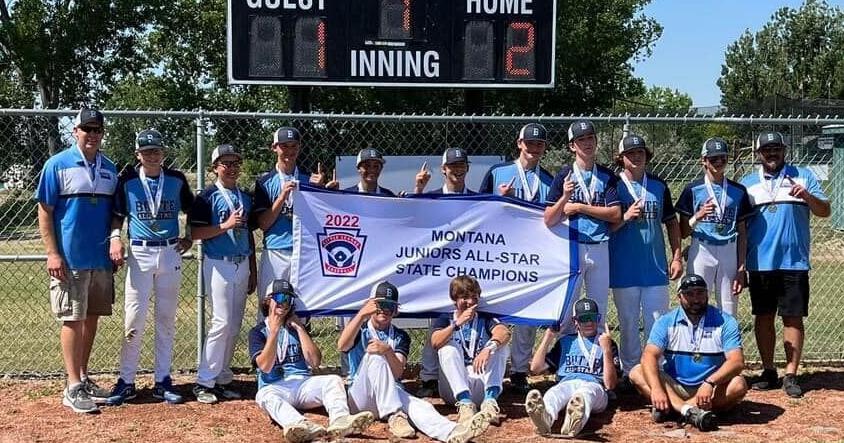 championship sends Butte Little League team to Oregon | Baseball
MOUND — The Butte Junior All-Stars head west.
The 14u baseball team, a combination of four city league teams, won the state's Junior Little League All-Star Tournament in Billings on Sunday.
Next up is the West Regional Junior Baseball Tournament in Bend, Oregon, starting Aug. 4.
"For a lot of them, it's a dream come true," said head coach Mike Carden. "None of them have won statehood before, so it's something they've all been looking forward to and they're very excited to go."
Butte will face Team Arizona at 9 a.m. in the first round.
The All-Stars beat Laurel/Granite Peak 2-1 to book their trip to Regionals.
It was a rare low-scoring affair. Butte won its other tournament matches by scores of 20-10, 16-9 and 10-9.
"It was defense," Carden said. "Both teams' defense was very good. They were getting hits but the defense was performing and doing their job, getting the strikeouts."
Tegan Duffy took advantage of a sloppy recovery attempt to steal home third base in the top of the third inning. When the first baseman didn't catch the pitcher's throw cleanly, Duffy took off. The first baseman picked up the ball and shot at home plate, but Duffy was right before the tag.
Butte's other run came when Brooks Vincent hit an RBI double to score Logan Carden.
Starting pitcher Chase Lubick went 6.2 innings before hitting his pitch limit. Jaxson Williamson closed the match for Butte.
Butte wide receiver Gunner Bushman did his part to keep the Laurel/Granite Peak offense at bay. In the top of the second inning, he ejected two would-be stealers at second base. Lubick then picked an early runner for the third out of the inning.
"Those three games completely changed our game," Carden said. "They never tried to steal a base, they never stole a base after that.
"They didn't really have a lot of kids in scoring position because they weren't stealing the bases."
The All-Stars depart for Oregon on Tuesday and play at 9 a.m. the next morning.
The 13-team tournament could last up to eight days, with one or two rest days built into the schedule, depending on how well each team performs in the bracket.
Carden coached the 10-0 City League Champion CCCS team, of which seven players were selected to the 13-man All-Star team roster. The coach said his familiarity with the league's best players made him optimistic about the 14u All-Stars.
"Knowing the kids who were in the program, we thought we had a shot at qualifying for regionals," Carden said.
To help with travel costs, Butte Junior All-Stars are accepting donations through Venmo (Mile High Little League) and GoFundMe (https://gofund.me/5a9c6a42).