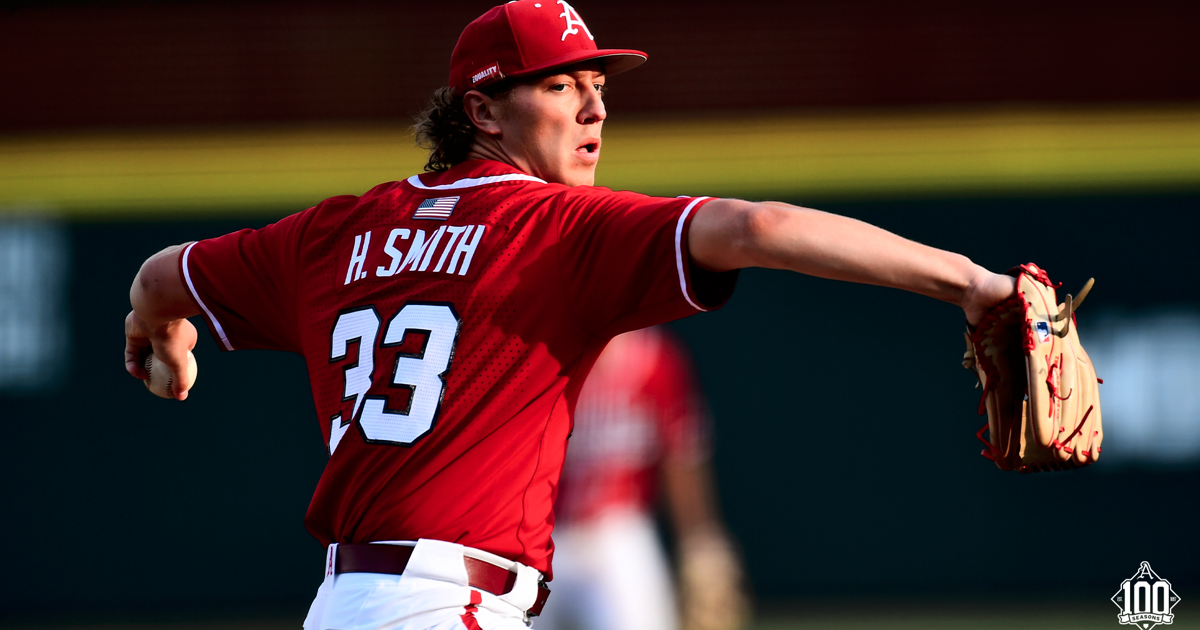 Bullard's Hagen Smith named to USA Baseball training camp roster | Sports
Hagen Smith, who was instrumental in helping the Arkansas Razorbacks earn a berth in the College World Series, has been named to training camp for the United States Collegiate National Baseball Team.
The former Bullard Panther secured the spot on the 50-man roster. The roster is made up of the nation's top non-draft eligible college baseball players.
Smith (6-3, 215, left-hander) had a sensational freshman season for the Razorbacks, going 7-2 with a 4.66 ERA and 90 strikeouts in 77.1 innings. He also had two saves in the playoffs – against Oklahoma State (regional in Stillwater, Oklahoma) and against North Carolina (super regional in Chapel Hill, North Carolina).
In the CWS in Omaha, Nebraska, Smith made it through Arkansas' playoff game against Mississippi. The Hogs won 3-2 thanks in part to Smith's performance.
Smith pitched five innings for his longest outing since going six in an April 30 win over the Rebels. He allowed one run on two hits and four walks, and he struck out eight.
"My mental approach (June 22) was just to throw the ball over home plate, throw shots, because I know I have to throw shots to give us a chance," Smith said. "If I take people around, I won't go long or help our team."
The players arrived in Cary for training camp on Tuesday and will compete in a five-game Stars vs. Stripes intrasquad series in North Carolina before staff names a final 26-player roster for the national team on July 5.
Led by manager Mike Bianco (Mississippi), who led the Rebels to their first College World Series title this season, Team USA will then travel to Haarlem, Netherlands to compete in Honkbalweek Haarlem.
"We are thrilled to have such a strong group heading into training camp this summer with a chance to represent the United States on the 2022 Collegiate National Team as we return to international competition this summer," Eric Campbell , general manager of the USA Baseball Collegiate national team, said. "This year's training camp roster includes some of the best college baseball talent in the country, and the opportunity for these players to represent our country on the world stage will be a rewarding and unique experience for them."
Highlighting the training camp roster are six USA Baseball alumni, including 2021 Collegiate National Team members Dylan Crews (LSU), Jacob Gonzalez (Mississippi), Paul Skenes and Kyle Teel (Virginia).
Mississippi, TCU and Wake Forest lead the way with three players each, while Arkansas, Louisville, LSU, Southern Miss, Stanford, UCLA, Virginia and Virginia Tech both claim some.
TCU players include LHP River Ridings and RHP Luke Savage, both of Plano, and infielder Brayden Taylor of West Jordan, Utah. Keller's Texas Tech wide receiver Hudson White is on the team.
Game 1 of the Stars vs. Stripes series is scheduled to take place at the United States National Baseball Training Complex in Cary at 6 p.m. (C) Friday before teams travel to participate in games two, three and four of the series at Durham Bulls Athletic Park in Durham, North Carolina. The first pitch of games two and four is scheduled for 5:35 p.m. on July 1 and 3, respectively, and game three is scheduled for a first pitch at 4:05 p.m. Team USA will conclude its national tour on July 4 at Truist Field, home of the Charlotte Knights, in Charlotte, North Carolina, with the first pitch at 5:05 p.m.