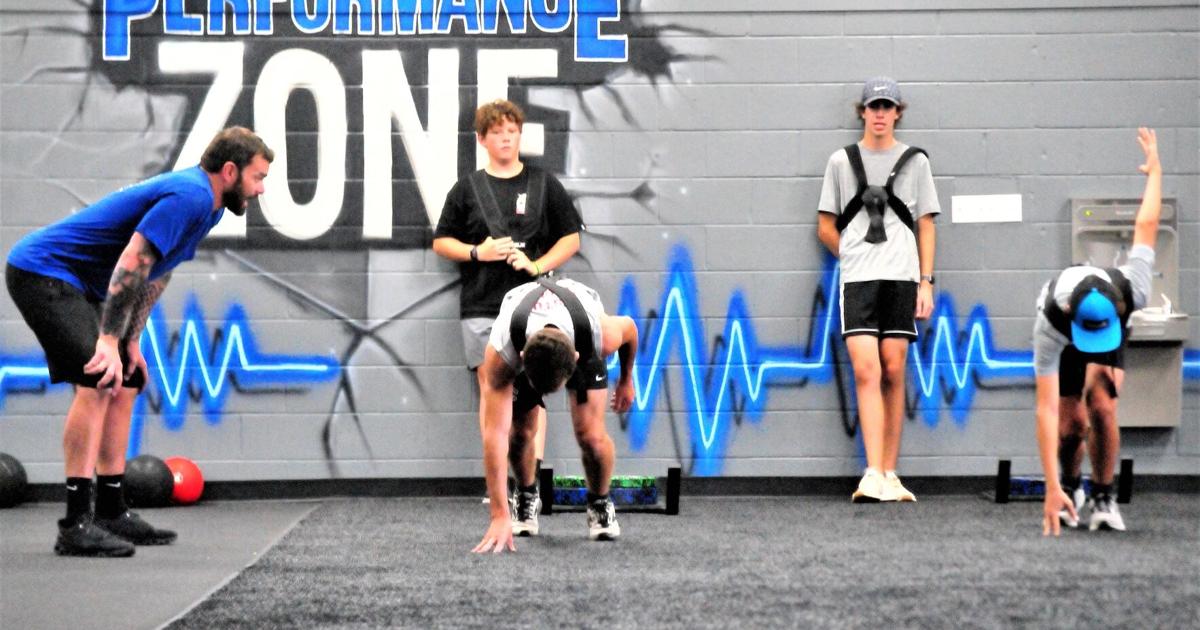 Athletic Center Performance Area trains county student-athletes with Kelley's premier program | Sports
CITY OF MORE HEAD — A workout at the performance area of ​​the sports center is no small cake.
The new Bridges Street facility is no place to 'hang out'. It's a place where student-athletes find their confidence and hone their athletic abilities, a place people go to consolidate their health and achieve new fitness goals.
Coach and program founder Grant Kelley is a staple of many of the county's student-athlete signing days, the rewarding moment when years of hard work turn into a chance to compete at the next level.
Work comes first. During an average Tuesday night session, a group of about a dozen student-athletes ranging from sixth graders to high school seniors bustle about.
Kelley plugs the music into a portable speaker to start. They start with simple stretches, followed by sprint work. Then they don chest harnesses attached to weighted sleds and work on their acceleration and explosiveness. Circuit training takes athletes outside in the fresh air to throw medicine balls, then inside for more cardio work and reps with dumbbells and the power rack.
The work is rigorous, but the results are tangible. Student-athletes can participate in 12-week programs that run in the spring, summer, fall, and winter.
"We do some testing at the start, and you can see what you need to work on and what you need to improve on," West Carteret senior Grayson Edwards said. "That's what you'll focus on during the session, and if you put in the time and effort and challenge yourself, you'll get much better test scores at the end."
Edwards has been training with Kelley since she was in middle school. She joined because her friend, Courtney Tyndall, was already training with him.
"My brothers (Michael and Davis) both worked with him in high school," Tyndall said, "so one day my mom signed me up and I never stopped going."
While Tyndall and Edwards have been with Kelley since he was based in an upstairs suite at the Sports Center, other students like West junior Jaxon Whitaker have only been training with Performance Zone for a short time.
"I've been working with Grant for just under a year," Whitaker said. "It's pretty intense, but it works. It has my 10 inch vertical.
Kelley started Performance Zone in 2014 when he first joined Sports Center. At the time, it was simply called "Grant Kelley Fitness". Eight years later, the list of student-athletes he has worked with is too long to recall.
Several of the program's alumni have gone on to play varsity sports, such as Davis Tyndall of West who pitches at Division I West Carolina, Grace Tulevech who plays volleyball at Division I Lafayette, and Victoria Healey who rowing at Jacksonville University Division I.
Other upcoming graduates are also heading down this path, such as CeCe Johnson of East Carteret who committed to Division I athletics at UNC-Wilmington and Summer Nelsen who committed to playing softball at the Division II Erskine College.
Not everyone goes the college sports route. For some, like Tyndall who is heading to UNC-Chapel Hill and Edwards who will be at NC State in the fall, organized sports will end with high school, but what they learned with sports and training will stay with them. them.
"For me, it boosted my confidence on and off the pitch," Tyndall said. "That level of training just made me feel better when I was playing, gave me more stamina. I feel like it made me a better athlete overall. That's something who will stay with me.
Kelley has enjoyed seeing his students succeed athletically, but it's the extra confidence he sees that means the most to him.
"The goals of the program are to help them on their journey from a young age where most kids lack the confidence to become confident in the weight room and the classroom," Kelley said. "That confidence grows, and then the athletic ability follows."
He added: "I'm more proud to see children who have no self-confidence become very confident in themselves than to see sporting success."
Kelley himself is a County alumnus, a 2007 West grad who played baseball at North Greenville University in South Carolina before earning a bachelor's degree in exercise science from Greensboro College.
In 2017, the Sports Center renovated a space on the ground floor for Performance Zone. As the programs grew, the demand for space also increased. It moved once again in November, now accommodating a space large enough for more circuits and exercises.
The room has power racks, small and large punch bags, ellipticals, exercise bikes, rowers, climbers, boxes of various sizes and more. The property also has a full toilet and shower.
"We started thinking about moving in the summer, and then we found this space," Kelley said. "It met a lot of our needs in terms of size and open floor plan. It was a perfect location, so we pulled the trigger in June. It was funded by the Sports Center. They have everything bought here. It's another leap forward."
Performance Zone offers programs for adults and teenagers. They vary in degree, but they are mostly alike.
"For kids, it's about getting them ready for middle school or high school prom and the different programs they're heading into," Kelley said. "For adults, it's more about being healthier. It's five days a week, with three days of strength training and three days of cardio.
When a student-athlete begins a new seasonal program, their measurables are recorded and compared at the end of the program. These measurables may include the 10 and 20 yard dash, vertical jumps, wide jumps, superior pro agility test and body strength.
"Grant is really good at designating workouts that coincide with your sport," Whitaker said. "Your session can be very different if you are a volleyball player, a football player or a basketball player."
Whitaker will be a rising senior for the Patriot basketball program in the fall. His sessions often consist of heavy kettlebell swings for his hip flexor, Bulgarian split squats to help with his quads, and power cleans to help with his triple extension so his knees, ankles and hips are working together.
"For me and (teammate Cason Collins) he tries to make us more explosive, so if we come back on defense we can shut down in no time. We want to be able to keep jumping and sprinting at full power without running out of energy.
Whitaker has been working with Performance Zone for less than a year, but has achieved major results.
"With my position, it definitely helped get rebounds and block shots," he said. "He's jumping me out of the gym now."
A student-athlete like Whitaker entered the program as a varsity-level player looking to get in better shape. There are others who are still growing up, still waiting to make the transition from middle school to high school or from jayvee to college.
"My biggest jump was between eighth grade and first grade," Edwards said. "You just played at such a slow level of volleyball since college, and it's hard to make that transition. The level of play is so different, but with what we did with Performance Zone, Courtney and I were just ready.
Student-athletes already have a tough training schedule during their sport's season, but maintaining physical fitness in the offseason has its benefits too.
"I think it definitely helps to keep working in the offseason," Edwards said. "Otherwise you come back in the summer and you have to start all over again."
Both Edwards and Tyndall will graduate next week, which means their time with Performance Zone is over, but they are both grateful for their time there and the support they received from Kelley.
"I've loved it since I arrived," Edwards said. "It's a great environment, and it really helped my performance on the pitch. Grant has always been someone to ask for advice. He's a great person. I'm glad to have him in my corner.
Tyndall added: "He always makes it a priority to see a few of our games throughout the season. I don't think I would be such an accomplished athlete if I hadn't worked there.
The next seasonal program is for the summer, from June 13 to August 19. Registration is open and will continue until the class fills up.