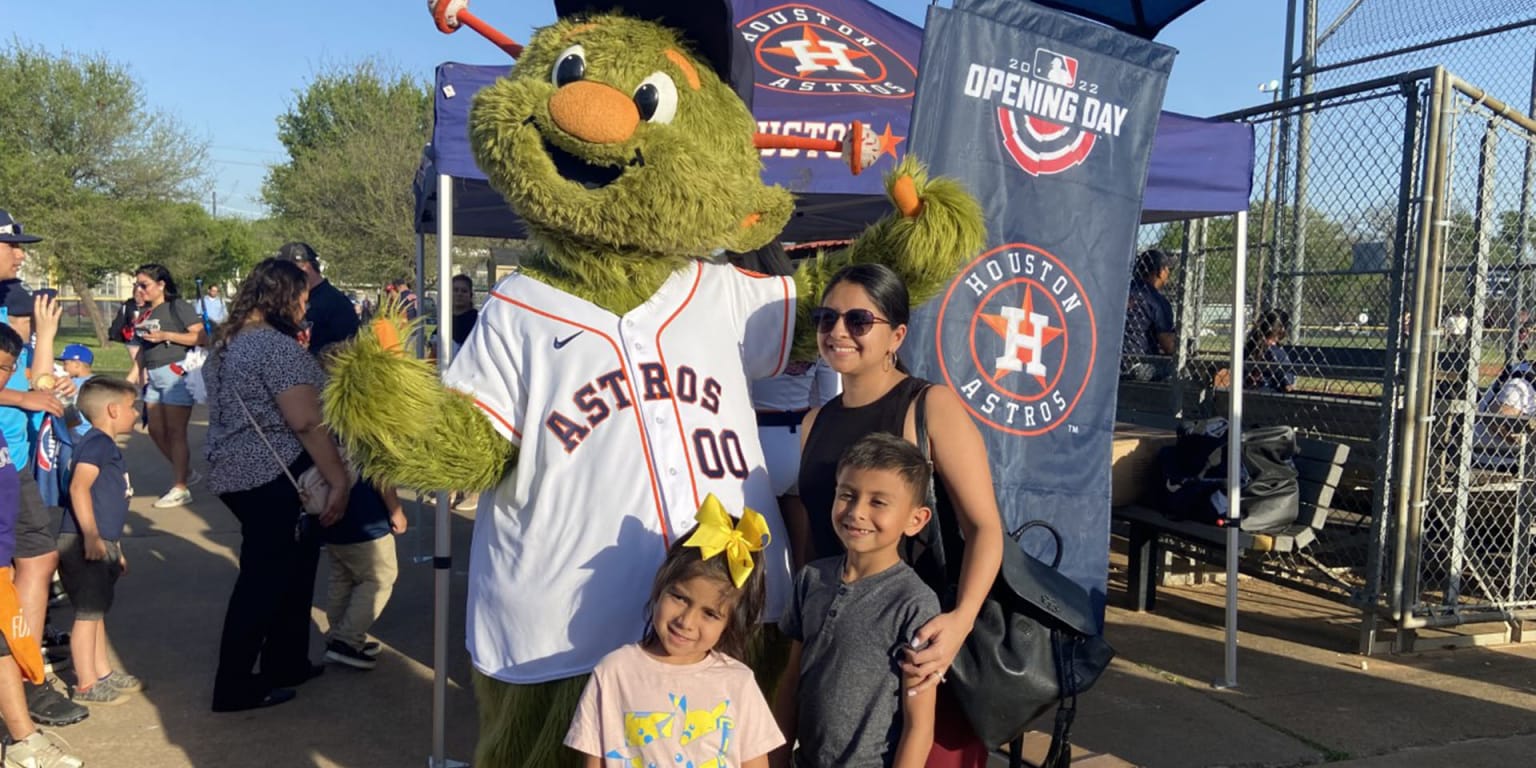 Astros visit Little League fans
HOUSTON — With an extended road trip to open their season, the Astros will have to wait a while longer to play in front of their home fans for the first time in 2022. But that hasn't stopped the party from starting in Houston, especially among the baseball-loving children who were treated to a few surprises on their Little League field on Wednesday.
Members of the Astros Organization and the Astros Foundation visited the young East End Little League players at Diez Park, adding to an already bustling on-field evening of activity at the three-pitch complex. Astros legend Jose Cruz headlined the event, alongside famous furry mascot, Orbit, and the Shooting Stars.
Team representatives handed out free collectibles, ballpark-themed snacks and other surprises. Cruz, who has made several visits to this field since the Astros renovated it early in Jim Crane's ownership tenure, signed autographs and posed for photos for more than an hour.
"I love coming to this ballpark," Cruz said. "I love being with young kids. I really have a good time when I come here, because there are a lot of Latino kids, and their moms, dads, grandpa's have seen me play. I enjoy it. I like being here.
This "surprise and delight" activity is part of a league-wide effort to get fans excited ahead of opening day. The effort is part of MLB's "Enjoy the Show" campaign, which celebrates the different ways fans can enjoy baseball – both on and off the field. The campaign has expanded to 10 markets across the country.
"I love seeing kids having fun," Cruz said. "Looking at them, I remember when I was younger and think of my own grandchildren."
The Astros open their season Thursday in Anaheim, the first of a four-game series with their intradivisional rivals. They are off on Monday then will resume the road trip to Arizona and Seattle. The home opener is April 18 against the Angels.
The extra time provided the perfect backdrop for hosting a youth-oriented event, like the one that took place in Diez Park near downtown Houston.
"Starting this week, we're all excited and waiting for this to happen," said Astros Youth Academy Director Daryl Wade. "And now it's here, and even though we're not going to be [starting the season] at home, it's a good opportunity for us to really get going and be ready to go when we have our own opening day.