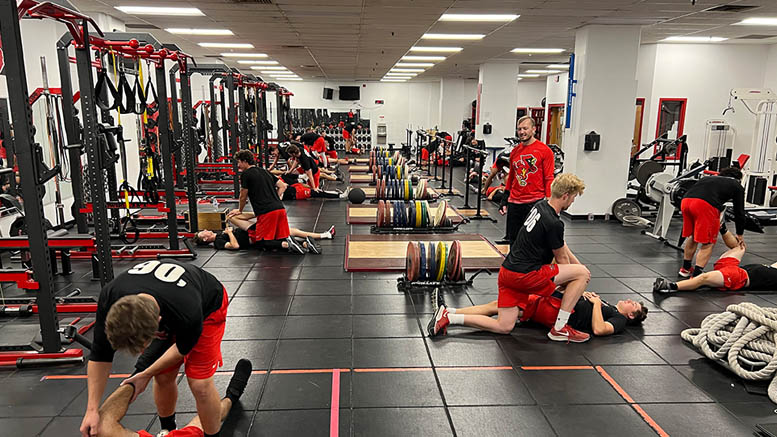 Arsenal named Ball State baseball coaching provider — Muncie Journal
By Juli Metzger—
MUNCIE, IN—The Arsenal, The original Muncie CrossFit Center is the strength and speed training provider for this year's Ball State University baseball team.
"It's a blessing to be able to teach at the highest level of college athletics," said Arsenal head coach Eric Van Matre. "What we provide to Ball State NCAA Division I baseball players is also available to young athletes in Delaware County and beyond."
Ball State's baseball program sought a local supplier with a top-notch fitness facility, proven expertise in strength, speed and conditioning education, and a history of participation and training BSU track and field team, Van Matre said.
"Every time a school changes coaches there is an inherent question of success. I am excited about the future of Ball State Baseball and their continued upward trend of success with the addition of their new strength and conditioning coaches Eric Van Matre and Kyle Barsha of Muncie Arsenal," said Jason Roberson, manager. of Ball State's strength and conditioning. for Olympic sports. "It's reassuring to see the team continue its winning traditions with its strength and conditioning program designed by two accomplished veterans of the trade."
Student-athletes will have access to advice and feedback on movement, strength, speed and conditioning at an elite level to help develop their bodies as athletes, as well as their team spirit and resilience mental to continue to strengthen the culture and tradition of the program, Van Matre said.
The Arsenal opened in 2013 on South Walnut Street. Today it is located at 210 E. Centennial Ave. and welcomes more than 200 athletes of all ages and levels.
Arsenal offers coaching, training and development in youth sport performance, collegiate sport performance, personal training and competitive weightlifting, says co-founder and CEO BJ McKay, himself a Ball alumnus State.
"This partnership opportunity with Ball State Baseball is perfectly aligned with how we operate," McKay said. "These athletes have goals and a timeline for accomplishment. Our role is to help them become the strongest, fastest, most mobile and enduring athletes possible, in partnership with their coaching staff, on their road to winning the next MAC championship.
Van Matre is a former Ball State baseball player and coach. He was a pitcher from 2007 to 2009 and an assistant coach from 2010 to 2011.
"I am thrilled with the opportunity given to us and the confidence that Coach Rich Maloney and the entire BSU coaching staff have instilled in us to continue to develop these athletes and help lead the Cardinals to the best opportunity to come home with gear at the end. of this season. They set the standard last season, and we're extremely excited on both sides to work together to raise that standard even higher.