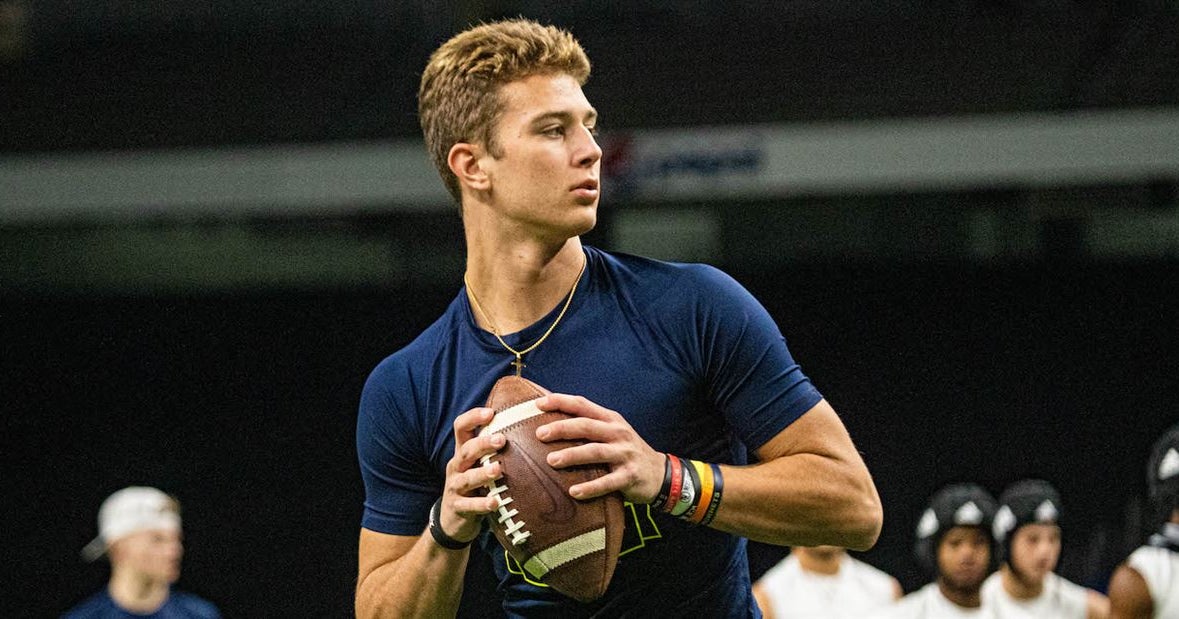 2022 National Combine 247Sports All-Combine Team
SAN ANTONIO – The All American Bowl National Combine wrapped up at the Alamodme ​​on Friday and 247Sports brings you the best performers from the event.
The All-Combine team was made up of 247Sports analysts Gabe Brooks, Andrew Ivins, Tom Loy, Mike Roach and Steve Wiltfong.
Alpha Dog / General MVP
CJ Carr
2024 High Top247 quarterback Saline (Mich.) Was the showcase's best overall performer, accurate on multiple down pitches, often putting football where only his guy could get it. The 6-foot-3, 190-pound Carr has a smooth throwing motion with all the arm flair you want at the stance. Early offers include Michigan, Michigan, Notre Dame and Wisconsin, where he visited this fall for games.
Offensive MVP
White of Sacovie
The runner-up, who frequents Cartersville (Ga.) Cass, exhibited a formidable combination of speed, skill with the ball and impressive jumping abilities. While not the tallest individual, he easily pulled away from the defensive backs and was open all afternoon. Maryland offered White in June. He visited Notre-Dame in October.
Defensive MVP
Jaremiah Anglin Jr.
Don't be surprised if Anglin becomes a popular name in recruiting services. After landing five assists as a junior, Anglin, who is cousin to Derwin james, selected four more in Friday's 1-on-1. The two-way star from Lake Wales, Fla. Is far from a complete product, but his best football is definitely still ahead of him.
First attack team
QB: CJ Carr (2024) – General MVP
QB Austin Novosad (2023): Three-star Dripping Springs (TX) High School quarterback and Baylor commit were the top callers in the morning session. His crisp movement, smooth footwork, pinpoint accuracy and ability to throw with good timing left a positive impression.
RB Roderick Robinson II (2023): Explosive drills in position, the flipped tailback was a tough cover for 1-on-1 linebackers, including a few downstream holds. Raised on Oregon and California early in its process.
RB Jayden scott (2024): A really smooth traffic jam that created an easy separation from second tier defenders. Arizona State and Miami offered.
WR White of Sacovie (2024): Offensive MVP
WR Semaj Pierre (2025): No one was able to cover Pierre, who could have been the best road runner at camp as he was a very difficult cover. The Louisiana native is already reporting an offer from the state of Mississippi. Other Power 5 tenders are probably in progress.
WR Andrew Marsh (2025): Marsh has proven his ability at all levels of the field by showing multiple routes on the tree and a strong ability to get off the line. Marsh pushed the defensive backs vertically and showed fantastic ball skills in the hands as he staggered several highlighter catches.
WR Jordan allen (2025): Offensive coaches at the camp kept talking about Allen, who is just 14 and played the JV in Buford, Ga. Last fall. He was one of the few broads to beat Anglin.
WR Camdon Frier (2024): Son of a former FSU receiver, Frier clocked the fastest 40-yard sprint on Friday with 4.59 – twice – on lasers. He is also a talented baseball prospect and is recruited to play both sports in college.
YOU Morgan pearson (2023): Pearson is another bisport athlete who will have the opportunity to play baseball to the next level. He dominated defenders and was competitive at the point of capture, which is always encouraging for a bigger body.
YOU Dallas-Johnson winner (2023): Coming from Cardinal Ritter of St. Louis (Mo.), Winner-Johnson won most of his reps, possibly including the day's catch, a one-handed snag in the middle for a touchdown .
OL Tyree adams (2023): New Orleans prospect Warren Easton was perhaps the best individual offensive lineman in Friday's event. His size, length and mobility dominated in 1v1 clashes against some quality defenders.
OL ByAndre Carter (2024): Santa Ana (Calif.) Starting left tackle Mater Dei shone on Friday with the strength of his phone booth and surprisingly good movement ability compared to his massive size. He could become an elite all-round O lineman.
OL Isaiah Robinson (2023): Robinson's length simply engulfed defenders for the majority of his 1-on-1 action. His leverage is a work in progress, but Arlington (TX) star Lamar has significantly improved his conditioning and mobility.
OL Sam pendleton (2023): The Pfafftown (NC). The Reagan prospect has gathered strong representatives inside and out. He's full-bodied and chunky in the bottom half, which has allowed him to sit up and create a wall in several 1-on-1 occasions.
OL Jimothy lewis (2024): Lewis is raw, but had perhaps the most impressive physical base of any offensive lineman present. He's still learning the technical nuances, but the natural athleticism and overwhelming size of the Madison (Miss.) Ridgeland Academy have stood out on several occasions.
Defense first team
DL Colin Coates (2023): A full-bodied inside D lineman, Coates displayed surprisingly explosiveness. The Baltimore St. Frances Academy star combined that tight contraction with the power of a D tackle expected of his stature.
DL Thomas collins (2023): The Swedish front-line defender caused quite a stir on Friday, showing impressive speed of exit and movement capacity. Collins' Pursuit Juice might allow for a few hiccups in the long run, but it might be better suited to an indoor location in a one-sided scheme that capitalizes on its inner rapids.
DL Semaj Turner (2023): An impressive prospect on the foothold, Turner won his fair share of 1-on-1 clashes with encouraging anticipation, flurry and flexibility out of the rim. Turner could adapt to several schemes, but his style is that of a standing edge that can sometimes play in space.
DL Brad spence (2023): Klein (Texas) prospect Forest used his speed and mastery to win multiple 1-on-1 clashes as an on-board rusher. Spence can live on the edge long term or play the ball as a traditional linebacker.
KG – Kevin o'connor (2023): The Easton (Md.) Star High flashed more than any player in this position with multiple pass breakups while becoming running backs all afternoon. He's long and physical, a two-way street player in high school who threw for nearly 1,800 yards and 17 touchdowns with 11 tackles for a loss and four sacks.
KG – Robert Edmonson Jr. (2023): The Shadow Creek, Texas star pulled a few passes and knocked down several others. One of the most physically impressive prospects too.
KG – Nehemiah Sagiao (2023): Outside of the Bellflower (Calif.) St. John Bosco plant, Sagiao looks set to play a bigger role next fall. The running backs struggled to shake things up against him as a 1-on-1 wide receiver. He cleared runs, played soccer and covered the pitch.
CB – Jayden coleman (2024) – A taller defensive back, Coleman was aggressive with his hands and able to release balls. He assists Phenix City, Alabama Central.
CB – Tayshawn Wilson (2023) – Wilson looked like a corner that can impact the slot machine on Saturday. He not only ran the second fastest 40-yard sprint in the event during testing, but was also sticky in the cover and able to get his hands on multiple passes.
CB – Omillio agard (2024) – Already a member of Top247, Aggard has proven to be one of the most fluid defensive backs during footwork exercises. The native of Philly is quick to trigger and react. He also has a good sense of how to cover on the outside.
CB Donavan phillord (2024) – You can just tell Phillord is from South Florida based on his physical playstyle. He was aggressive in cover and managed to crack several passes in a 1v1. Pittsburgh has already offered.
S – Jaremiah Anglin Jr. (2023) – General defensive MVP
S – Jaylen heyward (2024) – Frame / build perspective, few of the defensive back squad looked like Heyward. The Sunshine State-based was light on his feet and showed the ability to flip his hips and reach deeper parts of the court.
Honorable mention
Strategist: Marcus Stokes (2023), Parker Leise (2023), Danny o'neil (2024), Aidan Gray (2023), White Walker (2024), Brock Glenn (2023), DeShawn Purdie (2024), Chase mccravy (2024), Emile picarella (2025)
To recover: Gabe Sawchuk (2024), Justin Baker (2025), Terrell Cooks Jr. (2024)
Wide Receiver / Narrow End: Raiden brown (2023), Apollos Cook (2023), CJ Jacobsen (2023), David Wells (2023), Montrell Wade (2023), I'Marion Stewart (2024), TJ McWilliams (2023), Allen Middleton (2023), Kameron White (2023), Baylin brooks (2023)
Offensive line: Raymond Pulido (2023), Logan reichert (2023), Jon Moule (2023), Ethan Hubbard (2023), Isaiah Kema (2023), Dylan senda (2023), Luis Cordoba (2024), Caden jones (2023)
Defensive line: Call of Kaven (2023), Zachariah Keith (2023), Jaden McKinney (2023), Saadiq Clement (2023), Cole roberson (2023), Jacobi Murray (2024), Eddie Tuerk (2024), Jahkeem stewart (2026), Ka'Shawn Thomas (2023)
Linebacker: Makai williams (2023), Brandon miyazono (2023), Henri takacs (2023), Caleb The Valley (2023)
Defensive back: Antonio Cotman (2023), Shelton Lewis (2023), Dwight Bootle (2023), Kahlil ali (2023), Dillon thieneman (2023), Jay Avery (2023), Shajuan Rice (2023), Jamil Thomas (2023).