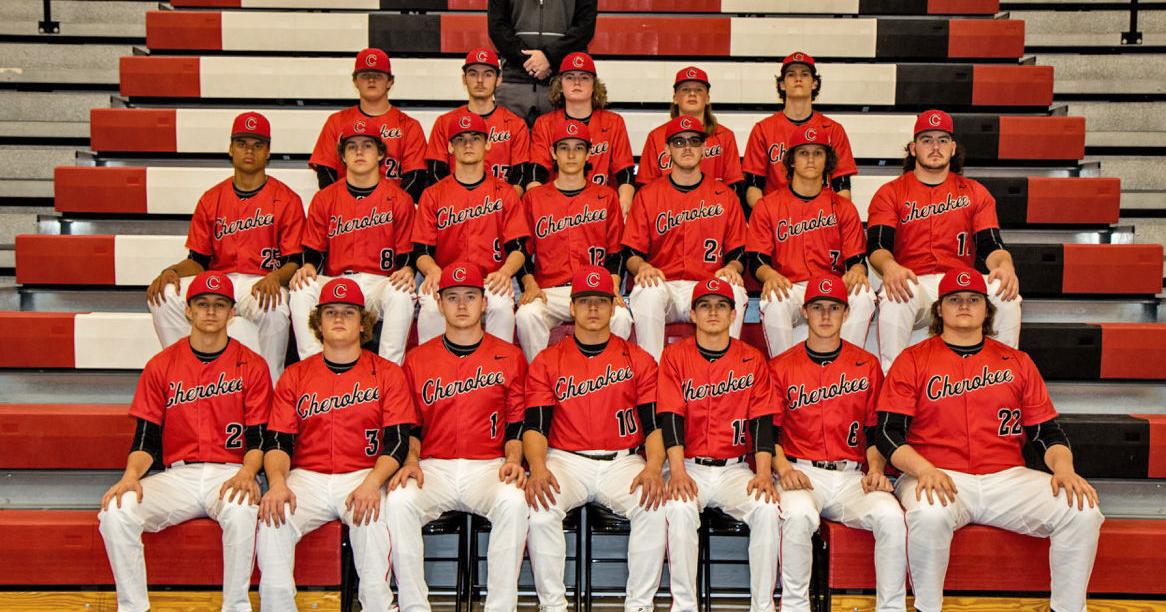 2022 Cherokee baseball team will hang their hats while hitting | Sports
ROGERSVILLE — The Cherokee's 2022 baseball season started with a clean slate after taking a look back to move forward.
After beloved Matt Carter left the program after the 2019 season to be closer to his family in Jefferson County, the 2020 season was canceled due to the coronavirus shutdown shortly after its start.
In 2021, Todd Pait succeeds Carter. Pait, who said his style reflected his military background, coached the Chiefs for just one full season, a 7-21 campaign that included a 1-11 Big 7 Conference record.
The decision was made not to bring Pait back and to move the program in another direction.
Shortly after the end of the 2021 baseball season, Drew Patterson was named Cherokee's new head baseball coach, announced at a press briefing last June at the school.
Patterson's first coaching experience was as an assistant on Matt Carter's staff in 2019.
"My first coaching experience here was definitely a good start for me," Patterson said. "Just the opportunity to return to a program that is historically competitive, tough and tough is just something I'm looking forward to."
Patterson, a 2015 graduate of Greeneville High School, was an all-state selection in his senior season by the Tennessee Sports Writers Association. He then played college baseball at Roane State Community College, then Milligan, then played for the Syracuse Salt Cats in the New York Collegiate Baseball League.
"After that, I came here to coach my freshman year," Patterson said. "I coached my first year here, and for the past two seasons I've been Daniel Boone's assistant."
Led by Scott Hagy, the Trailblazers finished the 2021 season with an 18-12 record and a third-place finish in the District 1-AAA tournament.
"Wanting this job was something I couldn't pass up," said Patterson, whose upbeat style is more like Carter's than Pait's. "I'm super excited to come back. I'm just pumped to get ready to leave. This is a new conference, a new division, so I think those kids should be really happy that I'm that guy who brings the energy. Bring the effort and I think we can really compete in this new conference.
In addition to a new coach, Cherokee will play in a new conference. After struggling in the Big 7 against Science Hill, Dobyns-Bennett and Tennessee High, the Chiefs move to District 2-3A against Greeneville, Grainger County, Cocke County and Claiborne County.
"We've played in a tough conference over the many years we've been here in District 2, District 1," Cherokee athletic director Andrew Morgan said. "With the change coming, it was a new direction to look at and see where we could go from here."
"It's something we're very excited about. I've worked with Drew before when he was here with Coach Carter, so I know what we're getting. He is energetic, passionate. I think the kids are going to respond well," Morgan said.
"The Big 7 is obviously one of the toughest conferences in the state," Patterson said. "Going down a division, I think you always bring that Big 7 energy. This is a team that has been in the Big 7 for a few years now and was in the IMAC before that.
"Cherokee has never failed to play a tough, high-level schedule. So I think with a new division, if you bring the same energy, attitude and drive to compete, you're going to win games. baseball," he said.
"I think going to a conference that Cherokee should probably be in is something that those kids are really going to benefit from, having the chance to play deep in a playoff, play deep in a district or maybe potentially go into a region. I think that's something these kids now understand they can do.
"They don't have to face Science Hill or DB, which are so tough every year. Schools that have 1,200 or 1,300 kids don't have to play with a school that has 2,700. I think those kids now have a more realistic idea of ​​what a district tournament playoff race might be like "said Patterson.
Cherokee has a good mix of experience and talent to do just that, starting on the mound.
"My pitchers this year will be, in no order, Jackson Davenport, Devan Carpenter, Matt Newton, Aidan Webb, Brady Leroy and actually a newcomer this year, Tyler Lawson," Patterson said. "He threw it absolutely phenomenally.
"Then we're going to see our young guys, Jacob Brooks, Keaton Lawson, those guys are going to see varsity heats later in the weeks. Vets will be upfront with Matt, Devan and all those guys," Patterson said, referring to the schedule that has conference games on Mondays and Tuesdays and non-conference games later in the week.
"We have a good amount of pitchers, good personnel. I hired a pitching coach this year, Garren Jackson. Coach Jackson. He and I played against each other in college. I brought him here from college. He did a good job in terms of preparing these guys.
"He played Science Hill, played Walters State, then he played King. I played against him in high school when I played in Greeneville, in college when I went to Roane and Milligan. So I have known him for a long time. He's a really good guy and he's helped our pitching team a lot.
In addition to Jackson, Patterson will be assisted by James White, Chase Connelly and Brandon Collins.
"As for the infield, it'll be Will Price at shortstop most of the time," Patterson said. "Then we have Jackson Davenport and Aidan Webb and Isaac Williams filling those third base and second base roles when Jackson is on the mound.
"First base, we're going to have a revolving door. It depends on who is throwing. First base will be Devan Carpenter, Cole Putnal, Blake Adkins. It will be a revolving door depending on whether Cole is behind the plate, Devan on the mound. Expect to see a lot of guys on first base," Patterson said.
"Outfield is pretty locked down. Parker Bailey in the center, Brady Leroy on the left and Logan Brewer on the right. It's probably our year-round outfield. We could bring in younger guys in certain game situations to give them innings. But when it comes to our conference lockdown, we're a very veteran outfield. These guys play hard and read the ball extremely well," Patterson said.
"The DH guys will probably be the ones that don't play first – Isaac Williams, Blake Adkins, Cole Putnal, Devan Carpenter," Patterson said of the designated hitter spot in the roster. "Whoever might not play defensively that day will probably get a hit – whoever hits it best that day will get a DH hit that game."
Matt Newton and Cole Putnal will handle catching duties for Cherokee this season.
"Matt Newton is our team captain, All-Conference in the Big 7 last year and signed with Johnson University," Patterson said. "He's our horse. He's our guy. The players obviously love him, he's a hell of a kid, a hell of a player. He's going to be someone we'll be running into a lot this year.
"He'll be our top three on the mound, our number one receiver and expect to see him in all three or four holes every day in the batting lineup," Patterson said.
"You can put it anywhere on the pitch. You can put it anywhere in the schedule and it will output. He's a kid who can show up one day and play third, and then he's a kid who can show up the next day and be on the mound or behind the plate. You can put it in the outfield if you have to," said Patterson, who explained why Newton will likely reach third most of the time.
"At home plate, he is so calm. He controls the box. He is really good at knowing the situation. That's the most important thing about him – he's a sponge. It absorbs everything. He's not one of those guys who thinks he knows it all. He's not a player who thinks he can't improve. He's a guy who's just very persistent. He's always trying to learn something new at home plate," Patterson said.
Price and Webb will most often hit near the top of the drive to set the table with Newton and Williams hitting in the middle of the drive. Like Williams, Carpenter, Putnal and Leroy can provide plenty of pop and will hit in the 4-5-6 range. The fast Bailey can hit near the top of the range or into the 9 holes to turn it around again.
With all those bats hitting will be a strength for Cherokee this year.
"We're going to hang our hats hitting the ball," Patterson said. "We're going to be aggressive at the plate, bringing that competitive mentality to hitting the baseball and trying to keep our defense and our pitchers in the game. They'll keep us in the game as long as we hit, and we won't get away with it.
The Chiefs' batting skills have been very evident in the young season. Cherokee defeated Cumberland Gap, 12-2, in its home opener in March. 15. After a 12-2 loss at West Ridge on Thursday, the Chiefs rebounded with a 14-5 victory Friday at Morristown West.
"I'm a very energetic coach," Patterson said. "I'm a very energetic guy. I think the higher the energy my players see me at, the more energy they play. So I think if I consistently bring high energy day in and day out, that's going to be something these kids will feed off of.
"I am obviously a very tough coach. I am very tough. My experience in high school and college, I think, instilled in me a very hard work ethic, something that I want to instill in these kids. You're never out of a ball game," Patterson said.
"That's why, waiting for the situation, we lost 10 points in the seventh, I'm going to train the same as if I was ahead 10-0 in the first. I'm going to be the guy full of energy on which these kids can rely on, these kids can lean on, and they'll always have their backs full," Patterson said.